Anything goes but no "strings attached": four rooms for ultimate variability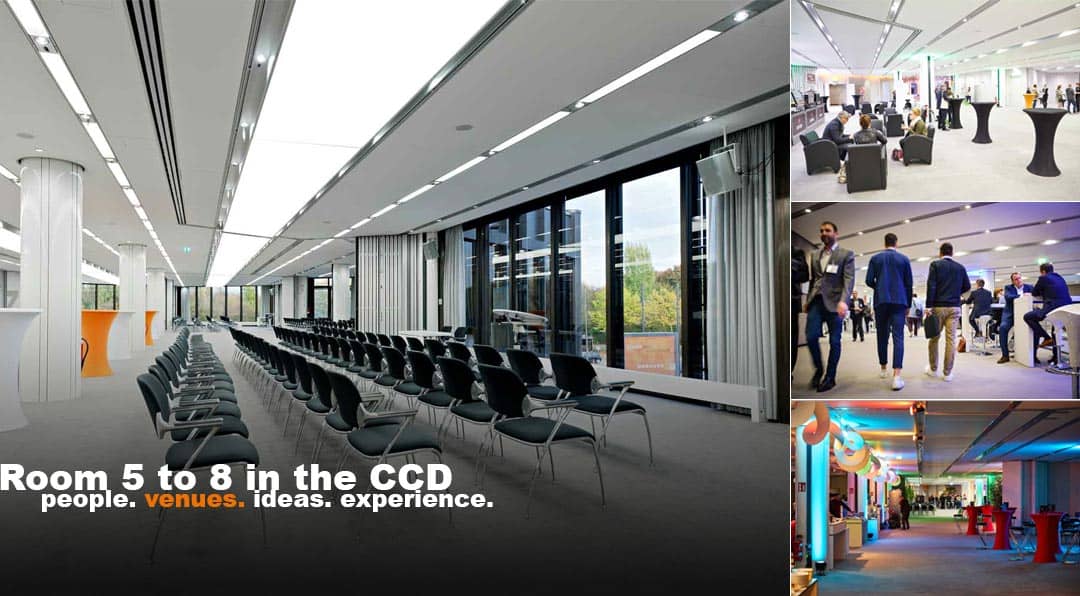 They are a bit like the Rubik's cube invented by Hungarian construction engineer and architect Ernő Rubik. Almost limitless combinations turning the surfaces of the cube until each side shows just one colour. What often drove us mad with the "Rubik's Cube" ensures with CCD Rooms 5 to 8 that every combination gives rise to something entirely new – with extremely variable room configurations for a multitude of purposes. Variations for a host of different event formats – this is what these four rooms stand for – like chameleons adapting to any surrounding.
Four rooms, two rooms, one room – your dream of the ideal room decides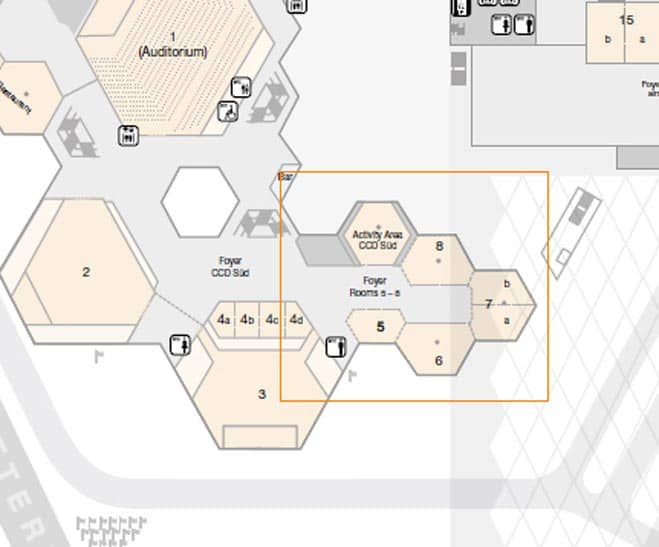 Is it actually four rooms, is it two rooms or just one? This lies in the eyes of the beholder. Because the four honeycomb-shaped rooms all have sound-proofed partition walls which can be opened and (sunk) – if need be – within minutes even when events are in full swing. At times it is four rooms, which turn into a large plenary hall boasting 520 m² of useful area, at others it is two rooms, three or four – strictly speaking it is even five rooms because Room 7 can also be subdivided.
A modular system that is ideal for events where a high degree of variability is required – such as for workshops, symposia and break-out sessions in separate rooms. As is the case with the "Deutscher Marketingtag" or "SpoBis", Europe's biggest event for sports licensing. Attendees can meet and work in focus groups but jointly present to the plenary. And all of this at the press of a button, in rooms that boast pre-installed event equipment so there are no delays.
International hotspot for medical expert congresses with parallel panels
Versatility that is in particular demand for expert congresses and meetings with parallel panels. Like during MEDICA, the world's No. 1 medical trade fair, which will occupy Messe Düsseldorf's entire exhibition centre. Then CCD will host two meetings and conferences in parallel: the 9th MEDICA MEDICINE + SPORTS CONFERENCE, bringing together over two days internationally renowned sports physicians, sports scientists, physiotherapists and experts for a multi-disciplinary dialogue on innovative approaches in prevention, regeneration and rehabilitation in top-class sport and health sport as well as the 44th "Deutscher Krankenhaustag" conference. Over three days from 15 to 17 November 2021 top decision-makers from clinics and health policy representatives will meet here to discuss such topics as digitalisation, funding, staff, management, organisation – thereby charting the course for the future of the German hospitalscape.
Not only that: you can also "party"cipate and benefit from these four all-rounders
Because these four rooms are by no means just "work horses": located on the Rhine at km 740 they also double as "party animals". Nobody knows this better than the skippers visiting boot, who every January turn the premises of Messe Düsseldorf into the realm of luxury yachts, powerboats and water sports. In the evening they/you enjoy the dance floor in the four rooms which all have one thing in common – vistas of the lush greenery of Nordpark and of the Japanese Garden situated behind it.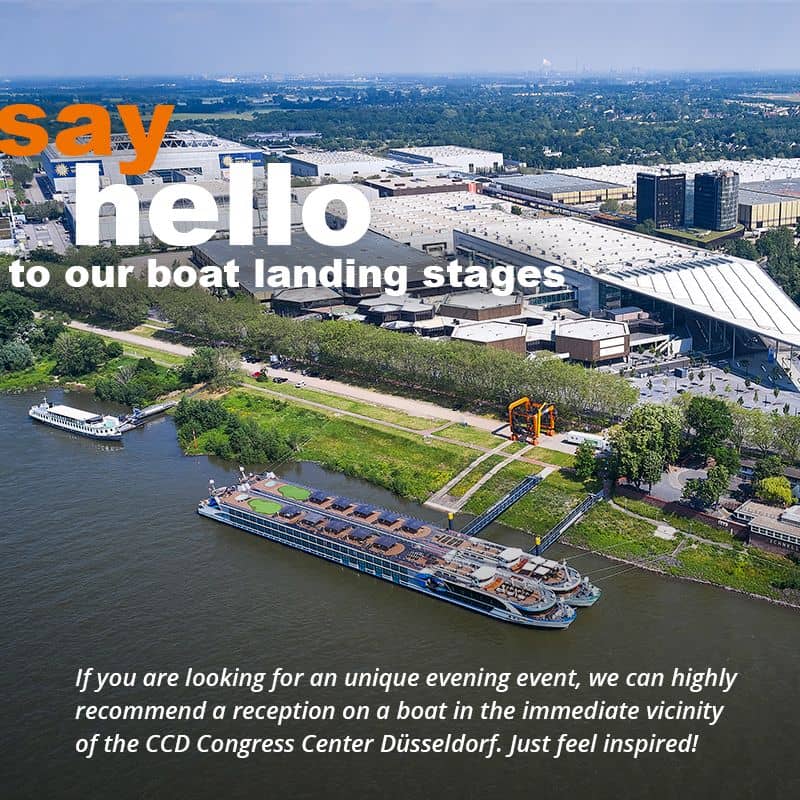 Redaktion
15. September 2021