Düsseldorf, the '15-minute city' at the heart of Europe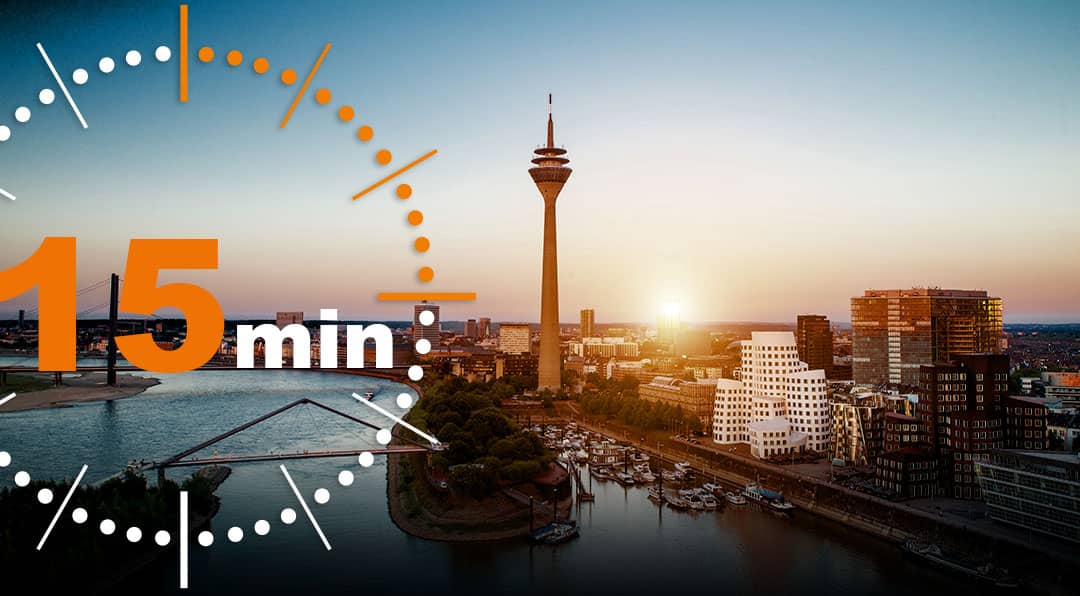 Close at hand. This is Düsseldorf.
Because not one but six European capitals are located within a 500-kilometre radius: Paris, Brussels, London, Amsterdam, Luxembourg and Berlin. A geographic asset that thanks to a high-performance transport infrastructure makes meetings at Düsseldorf Congress so easily accessible and convenient. After all, the city's key locations are all a maximum of 15 minutes away.
It is 3,000 kilometres long, 2,000 years old, considered the "mother" of international trade routes and runs through the middle of Düsseldorf. Those passing through the "Rheinufertunnel" heading to the Exhibition Centre and Düsseldorf Congress will hardly suspect they are travelling along the longest and oldest West-East route across all of Europe. Until today, the course of this road has been signposted with yellow street signs marked "B1". In Roman times it led from Gaul to the Rhine. In early medieval times it served kings and emperors as a path to the Weser and Elbe rivers. During the Hanse period it became the most important land-bound connection between the majors trading centres of Bruges and Novgorod – a main traffic artery for early long-distance European trade linking the Atlantic to the Baltic.
Modern high speed is not witchcraft
But today's high-performance routes bear different names. Such as "Thalys", that Belgian brand of fast and convenient rail travel. Et voilà – in under four hours these red liveried trains take conference and trade fair guests from Paris to Düsseldorf. From Brussels it's just a 2-hour ride. A total of six times a day this high-speed train departs for the North Rhine-Westphalian state capital.
And from Amsterdam and The Hague? It's practically a commuter service running every 20 minutes: daily almost 50 connections from Amsterdam and 38 departures from The Hague. Journey time: less than 3 hours. Düsseldorf Central Station is a hotspot for rail traffic in Germany: boasting 1,000 departures daily, including 170 long-distance trains and over 250,000 rail travellers it is among the top business destinations in Germany.
Düsseldorf International Airport as lifeblood of international business
Likewise the airport also shows how accessible and busy the destination of Düsseldorf really is – just an hour's flight from Amsterdam, Brussels, London, Luxembourg, Paris and Zurich. With over 220,000 flights and almost 25 million passengers a year, "DUS" ranks among the four most efficient airports in Germany. Also in terms of direct connections – boasting 248 destinations in 74 countries, including 135 intercontinental flights non-stop every week.
Figures like this underline just how crucial a modern international airport in a central location with good accessibility are for an economic powerhouse like Düsseldorf. Speaking of accessibility: the airport is located close to the Exhibition Centre and CCD making it easily accessible without long transfers.
Everything at hand – just 15 minutes away
And this applies to the whole city. Whether it's the airport, central station or exhibition centre and CCD, be it the sophisticated Rhine Promenade, elegant "Kö" shopping mile or vibrant Old Town – Düsseldorf thrives on the proximity of all these locations, logistics hubs and lifestyle hotspots which are easy to reach on foot or no more than a 15-minute taxi or tram ride away. And for this the city offers a mobility fleet virtually resembling an urban armada: with 1,234 taxis Düsseldorf alongside Frankfurt and Munich boasts the highest taxi density in all of Germany.
Add to this a local public transport network reaching every point across the city and spanning 350 km in length. Needless to say, this also includes the Exhibition Centre and Düsseldorf Congress, which are served by two underground lines (U78/U79). This means the Rheinbahn transport authority conveys over 200 million passengers a year over a distance of nearly 1 billion kilometres – all the while respecting the environment.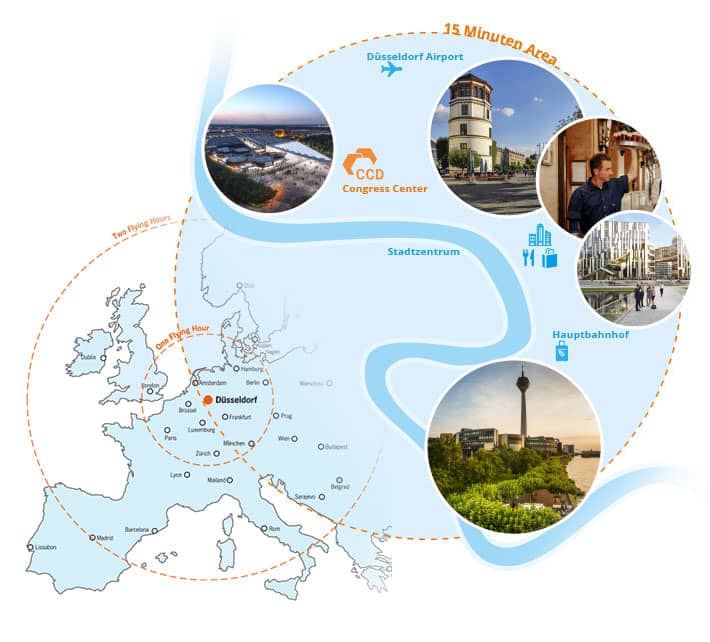 Maritime: jetty right on the doorstep
But maybe you prefer travelling by boat? No problem – this is also possible and not just when all the world's water sports lovers "set sail" for boot in Düsseldorf. A jetty is located right in front of CCD serving as a perfect inspiration for evening events on the Rhine, something highly appreciated by our guests.
To sum up there are many possibilities to "drop anchor" in Düsseldorf.

Redaktion
21. March 2022