Düsseldorf Congress: open-plan office concept promotes creativity and teamwork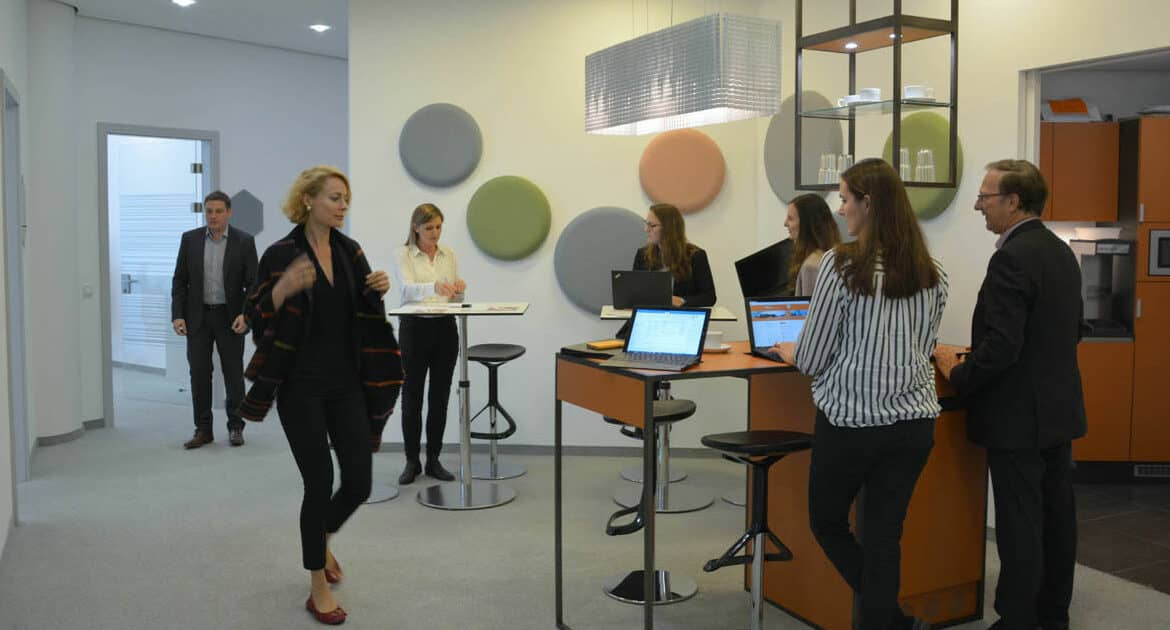 The "Convention Centre of the Future" has been an increasingly used buzzword in the meetings industry over the past few years. The innovation alliance "Future Meeting Space", for example, initiated by the GCB German Convention Bureau in cooperation with the Fraunhofer IAO and the EVVC Europäischer Verband der Veranstaltungs-Centren e. V., systematically analyses developments in this area with a view to developing future concepts on this basis. As part of SevenCenters of Germany Düsseldorf Congress supports this project – and draws inspiration on it. The term "New Work", innovative ways of working in the global and digital age, determines not only event formats but also the back offices of more and more companies – to the benefit of customers.
Open design aims to promote inter-disciplinary communication
This is why Düsseldorf Congress invests in the future of work with a new office concept. As a pilot project the management, sales and marketing/communication staff have been working in open-plan offices since September. Their previously personal workplaces have been replaced by freely selectable workstations. The open design aims to promote inter-disciplinary communication, open up room for creative ideas and further strengthen cooperation.
"The new working environment will help us cooperate even more across teams, exchange experiences and generate joint impulses in a creative atmosphere as well as tackle projects for the future of the convention business. At the same time, we can fully exploit the potential of digital working worlds so as to give each individual employee a productive and up-to-date workplace," says Hilmar Guckert, General Manager of Düsseldorf Congress.
As an initial step Düsseldorf Congress has implemented the new officescape in a part of the CCD Congress Center Düsseldorf. The concept offers employees various working zones – from team workstations where joint projects can be worked on, through to Quiet Zones and individual work spaces for concentrated work. An open coffee bar invites employees to network creatively and meet spontaneously while the conference area provides room for team meetings. In addition to the in total 14 workplaces for management, sales and marketing/communication employees, there are three further workplaces for colleagues from other teams – allowing changing project teams to re-group "spacewise" if need be. The complete officescape is equipped with WiFi to ensure a safe connection to the Internet and the company's local area network.
The design for the new working environment came largely care of the employees themselves. A cross-departmental project team channelled and implemented the staff's wishes.

Katharina Kellner
10. October 2018