IMEX USA & IBTM World – "Flexibility, good adaptability and further development are now more important than ever"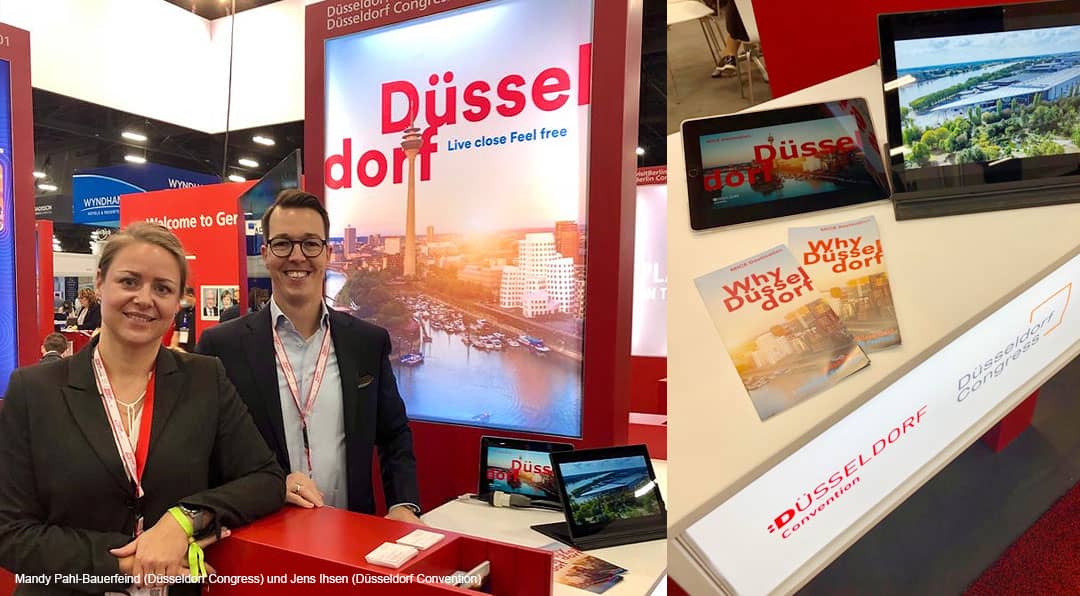 In this interview Mandy Pahl-Bauerfeind, Director of Sales at Düsseldorf Congress and Jens Ihsen, Director at Düsseldorf Convention, report on their preparations and expectations for the two important MICE trade fairs "IMEX USA" and "IBTM World" and share their insights – also in view of the changing MICE industry.
After almost 18 months of pandemic, business trips abroad are possible again. How do you feel about this?
Mandy Pahl:
It's exciting! But not so much the going abroad part but rather the personal encounters with old acquaintances and new faces that are possible again after this long time of virtual exchange and that are so valuable. The buzz and the energy you feel at a trade fair like this simply do you good and inspire great confidence.
Jens Ihsen:
Also very exciting. Travelling will all the conditions and restrictions proves somewhat adventurous. Trade fairs are so incredibly important, facilitating chance encounters.
In early November IMEX was held in Las Vegas and you took part in it. How did you prepare for this trade fair? What are your take-home lessons?
Mandy Pahl:
Preparations this year were impacted by US COVID travel restrictions – meaning right until a few days before the start of the trade fair it wasn't clear whether we would really be on site. But the exhibition stand had been planned, our agendas were packed, our presentations right up to date – everything was basically prepared. And, luckily, the day before IMEX we were allowed to enter the country.
The most important take-home message is definitely that trade fairs can absolutely work despite these still quite insecure times if all parties involved accept the situation, take it seriously and good protection and hygiene concepts are implemented. Trade fair participation as such is then not that different from before. What I have learnt is that many players in the industry are grateful that formats such as IMEX America and events in general can take place again and that physical formats enhanced and extended with digital components will soon be perfectly standard – there is clearly a demand for it.
Jens Ihsen:
I totally agree with Mandy. Trade fair formats are alive and probably far more efficient than prior to the pandemic. Only people with a concrete demand actually meet up! The transformation of our industry will therefore not come to a halt.
I suspect that hybrid events and trade fairs will only really pick up after the COVID pandemic. Until personal contacts are possible without restrictions again it is advisable to explore the new digital possibilities from "Virtual Reality" to "Marketing Automation" to find out what works best thereby leveraging the crisis for your own positive further development. This is what we have tried and tested at Düsseldorf Convention for 1 year now. Live is, of course, best! After all, it's America and travelling across the pond!
Early December then sees the next, big leading trade fair follow: the ITBM World in Barcelona. What do you expect from this trade fair? Are there differences in the preparation and market development compared to IMEX USA?
Mandy Pahl:
The effort that goes into preparing the trip is substantially lower and there is less stress than with IMEX America. Travelling within Europe even under pandemic conditions is a lot easier than between continents.
We have a nicely filled diary and do sincerely hope to be able to follow on from past successful IBTMs. And we are just happy to be there, able to pitch Düsseldorf and the CCD Congress Center Düsseldorf in personal conversations again, but also to meet old and new colleagues in the MICE sector once again.
Jens Ihsen:
Preparations for IMEX and IBTM only differ in travel terms. IBTM is THE leading trade fair for experienced meeting planners in Europe and also always a barometer for the business climate in the 1st quarter. In principle, it is important to now show a certain presence with our partner. We whet the appetite for Düsseldorf. Düsseldorf and the market have developed further last year with new hotels and venues emerging or about to emerge. We expect an inquisitive audience that is better informed than ever and which strives for sustainability!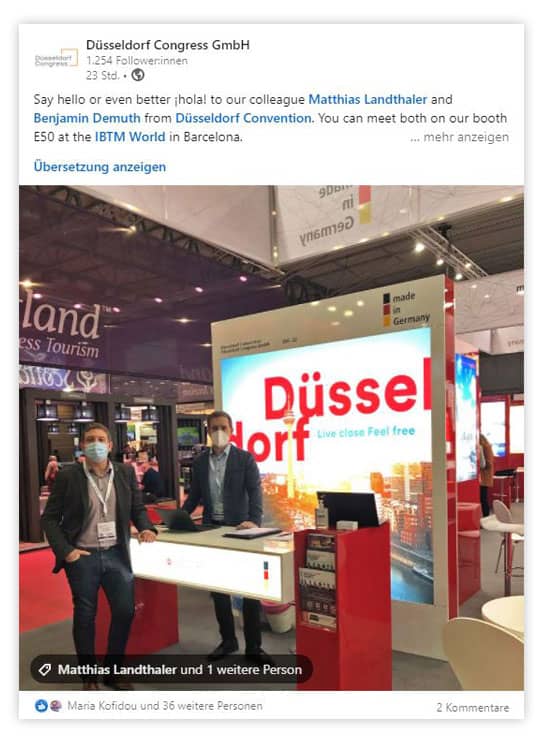 The COVID pandemic has brought many changes for the MICE market and forced us to re-think processes. Have the general preparations for trade fairs changed now too? Are there any changes in view of customer talks and mutual requirements?
Jens Ihsen:
This question is justified and will definitely come up for us ever more often in future. We meet with changed conditions in an increasingly complex eco-system. Be it sustainability, New Work, authentic venues and habitats for visitors and local inhabitants that have to be reconciled and balanced. The demands/claims have to be clearly phrased in the big enterprises first. After all, each visit to an event is based on a newly taken, deliberate decision!
Can Düsseldorf offer even greater added value for events "after" the pandemic?
Mandy Pahl:
The plus for our venues is that we have used our time during the pandemic to upskill our teams for virtual/ hybrid events and to scout platforms where numerous events could be held in the meantime – and which will also serve in future to stage complete events or specific elements thereof. I think we have also gained more consulting expertise during the pandemic, we have learnt to react even more flexibly to constantly changing circumstances, to quickly re-think and adapt event concepts and layouts. This will also prove its worth for holding events in Düsseldorf in post-pandemic times.
Jens Ihsen:
Yes, without a doubt! The majority of events had until now predominantly been held in physical format and only with isolated virtual elements. The COVID pandemic has shifted the focus to virtual and in part already hybrid events. Even though there is a certain longing for physical contact and interaction with other people – like in pre-COVID times – an enormous rise in hybrid events is expected. We have developed these skills with all our partners in Düsseldorf! Hybrid formats boast a high variety of design options with numerous implementation possibilities and development potential. Furthermore, numerous new venues such as "The Frame" and the "EUREF Campus" will join the fray in 2024 in the state capital of Düsseldorf.

Martin Rütten
6. December 2021