With an eye on maximum customer satisfaction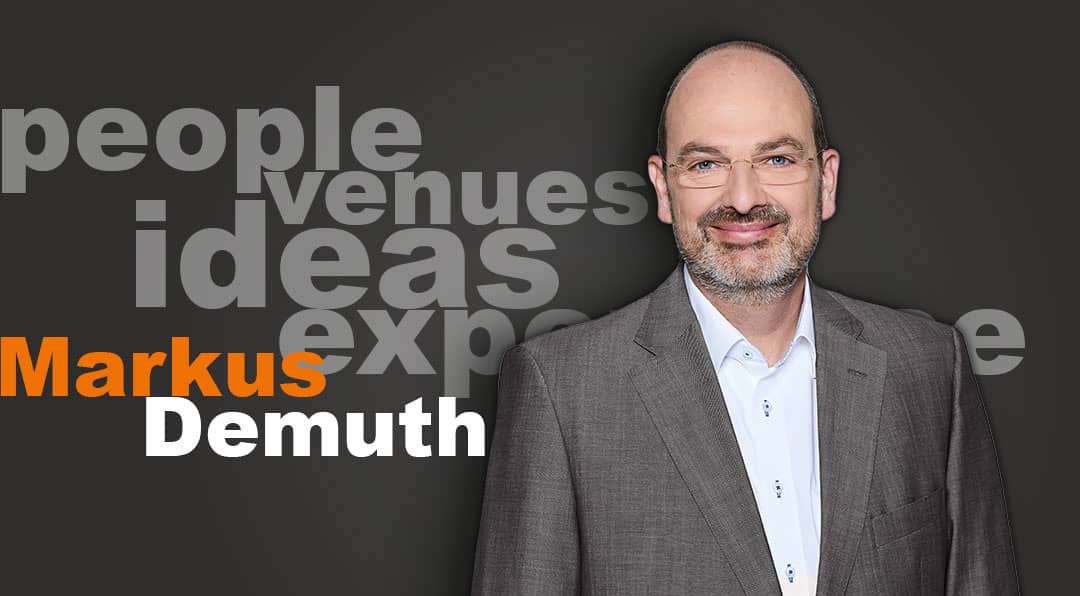 Success has many faces – also at Düsseldorf Congress. In our series "People of Düsseldorf Congress" we introduce you to our team by way of profiles and interviews – so you get to know the people working hard for your success. Today, our coverage turns to Markus Demuth, Head of Quality Management.
There is no second chance when making your first impression. After all, that first moment often decides how guests or customers feel when they start an event: do they feel well received, politely served, competently advised and professionally looked after in every phase of their project? And is the service they receive of a consistently high quality?
These are the questions facing Markus Demuth as the Head of Quality Management at Düsseldorf Congress. You could also say he is the interface between Düsseldorf Congress, its partners and service providers as well as the customers; and he always aims to make each touchpoint in this magic triangle synonymous with ultimate quality.
Highest customer satisfaction – this is the mission
Not an easy task considering the multitude of services required to interact to ensure smooth operations without any quality breaches. Be this at a major event like the Anime and Japan Convention DoKomi with up to 60,000 guests or highly specialised meetings like the Ophthalmologists' Congress held at CCD for 20 years now; or at business events like the AGM of DAX-30 listed company Henkel. In all of this Markus Demuth always has one thing on his mind – maximum convenience for customers and guests alike.
Born and bred in Düsseldorf and Flingern resident for the past 37 years he firmly believes: "Being great when it comes to little details is just as important as top performance and service on a large scale. Quality management starts at the front door and runs through all levels and service departments. All the way to strategic questions like: Are there customer needs we might need to expand or modify our range of services for," says Markus Demuth.
Düsseldorf Congress writes success stories
He is a man who has learnt the meetings business from scratch. Growing up with a mother in the trade fair business he already spent lots of time at the former fairgrounds on Fischerstrasse as a little boy. But even more than the trade fair business, he was interested in the meetings industry. So in 1985 he embarked on an apprenticeship – at Messe Düsseldorf, of course. At that time, CCD was still called "Messe Kongress Center" and concentrated on organising events accompanying trade fairs. Back then, there was no significant conference and convention business in Düsseldorf. "Even then, Düsseldorf had everything to make it a good destination – geographic location, accessibility and "soft" assets like art and culture. But the focus was on the trade fair business, which developed into the lifeblood of the city's economic life.
Building the "Stadthalle" in 1994 proved a turning point: "It was the start of a line of business that was becoming increasingly important – with shows, large-scale events and the first meetings," Markus Demuth remembers. What followed was a rapid upswing: "The mid-90s saw a growth spurt that became a real success story," says the 56-year-old today.
Milestones mark the path
Pioneering milestones in this success story were major international medical congresses, held then for the first time at CCD and the science location of Düsseldorf. These included EANM – the International Congress of the European Association of Nuclear Medicine, ECTRIMS – the Congress of the European Committee for Treatment and Research in Multiple Sclerosis, and the Ophthalmologists' Congress. Düsseldorf Congress has made a name for itself by staging these renowned events. Also in the field of business events: with the AGMs of DAX 30 companies such as Henkel or Allianz AG, whose extraordinary general meeting marking its transformation into a European plc was held not in Munich but in Düsseldorf. Today, no other congress centre in Germany hosts more AGMs than the CCD.
Live from Düsseldorf: sporting events in a class of their own
Milestones along this path also include major sporting events which are in the spotlight worldwide. For instance, the start of the Tour de France. In 2017, the Grand Départ took place in Germany for the first time in thirty years. Most of the organisation and management of this mega event lay with Düsseldorf Congress. It was broadcast live on television in 190 countries on over 100 channels – impressively underlining Düsseldorf's role as a sports city.
And if that was not enough: just weeks before saw the LIEBHERR World Table Tennis Championships being hosted in the halls of Düsseldorf Exhibition Centre. Featuring 700 athletes from some 150 nations, it was the largest indoor sporting event in the world. And despite there being no happy ending for Düsseldorf world star Timo Boll – admitting defeat to former and new world champion Ma Long in the quarter-finals – the eight days were a major sensation watched the world over: Chinese television alone reported 87 hours on the tournament reaching 320 million viewers with its coverage. In Western Europe, a total of 66 million people followed the events.
Your never walk alone: Düsseldorf the city of short distances and decisions
For Markus Demuth, born a stone's throw away from the former Fortuna football stadium at Flinger-Broich, these two events show one thing: "What started 25 years ago has now developed into true expertise – expertise that also works thanks to an overarching network emerging at the location that works together smoothly."

And Markus Demuth also contributes to this expertise by passing on his knowledge, gathered over almost four decades now, to the next generation. For him, quality management also means training and promoting the next generation of qualified staff. Which is why he also teaches trainees at Düsseldorf Congress and has been an honorary member of the CIC examination committee for event managers for 16 years now, including the last eight as committee chairman.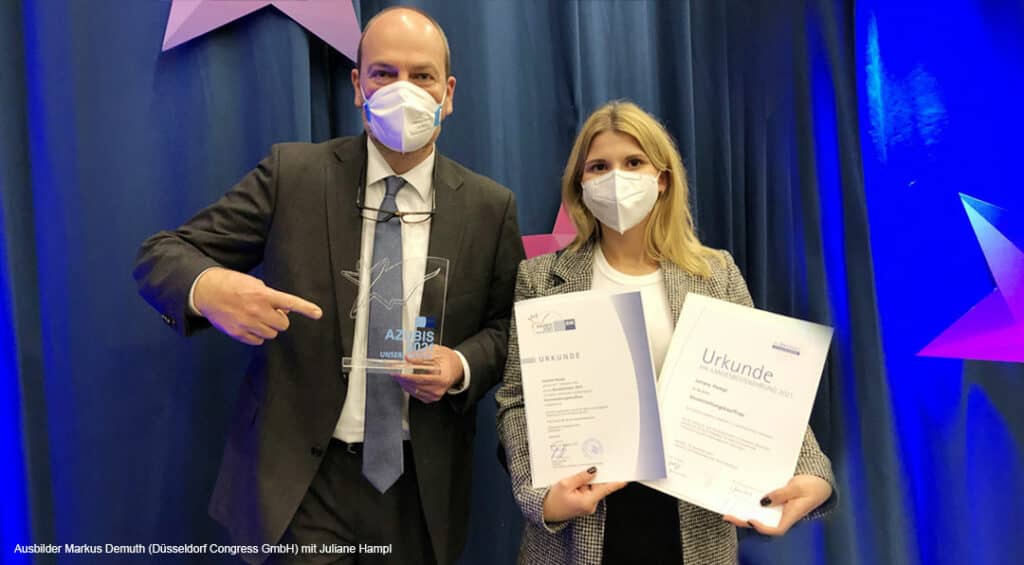 Sustainability an integral part of corporate philosophy for many years
As father of three children he is also particularly concerned about one topic since it will affect the future of the entire industry: holding events that are sustainable.
So he is very committed to this issue: as early as 2010, the CCD was one of the first international convention centres to be certified by Green Globe, a globally recognised and independent certification programme developed specifically for the travel and tourism industry. Since then, the CCD has been regularly recertified, continuously optimising its sustainable operations. Furthermore, Düsseldorf Congress has voluntarily committed to following the guidelines of the event industry's sustainability code "Fairpflichtet". Markus Demuth is currently working hard on ensuring CCD is the first venue in Germany to be awarded the "Blue Angel" by the Federal Environment Agency.
And here, too, the keen mountaineer relies entirely on what it says on his business card – quality management.

Redaktion
1. March 2022