Maurin Cronenberg and the technicians' team ensure the right set-up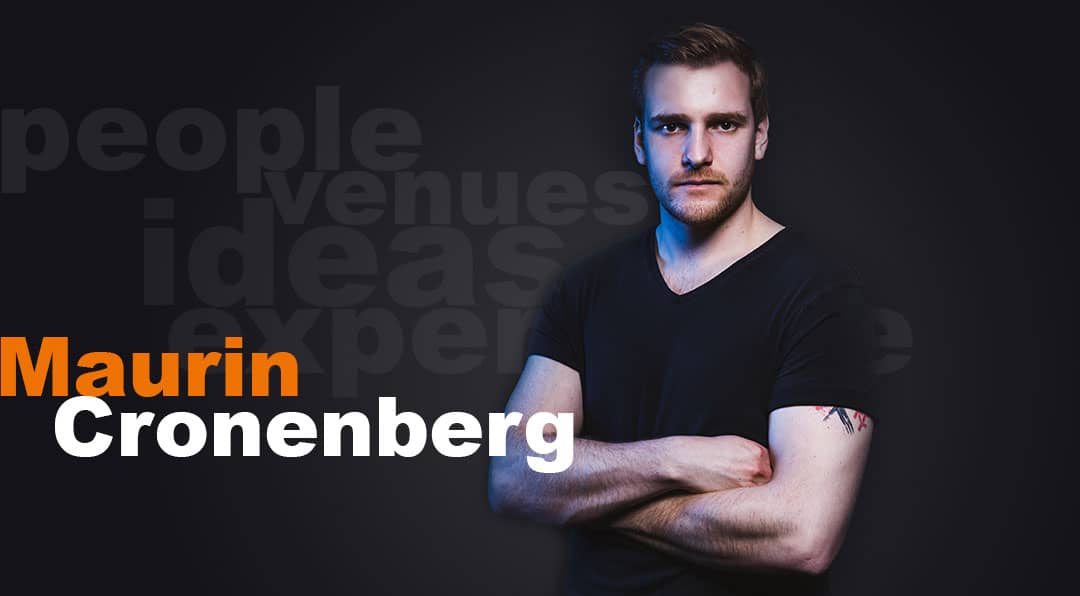 Success has many faces – also at Düsseldorf Congress. In our series we introduce you to the "People of Düsseldorf Congress" in biographies and interviews, so you know who is behind your success. Today, it is the turn of Maurin Cronenberg. Maurin is a Technical Project Manager. One in a crew of ten colleagues headed by Philipp von der Heyden-Rynsch whose team also includes two apprentices.
When asked about the special attraction of his profession, Technical Project Manager at Düsseldorf Congress does not hesitate. He can hardly contain himself: "It's the technically perfect implementation of what originally only existed in the customer's mind. In the beginning there is an empty room, but then the result gradually emerges turning into an experience for the client. This moment never ceases to fascinate me,", says the 26-year-old who started his career as an apprentice at Düsseldorf Congress in 2014.
The past seven years saw many of those moments he refers to. Such as 2017: with mega events that are great moments in the professional life of any event technician. 2017 was a sporting year of superlatives that demanded everything of the technical team and entire Düsseldorf Congress crew. Two mega events in four weeks: first the Liebherr Table Tennis World Cup, held as the biggest indoor sporting event in Hall 6 of Düsseldorf Exhibition Centre from 29 May to 5 June. Then the Tour de France, whose "Grand Départ" was also hosted in the North Rhine-Westphalian capital. Two events in a class of their own – and broadcast worldwide.
Four weeks, two superlatives: Table Tennis World Cup and Grand Départ of the Tour de France
To Maurin these were not one but two "once-in-a-lifetime" experiences in as little as one month. At the tender age of 22, he was allowed to join the fray – back then still as a young assistant: "The fact that I was allowed to do this shows how the team "ticks" as a whole", says Maurin. This is how he as a youngster got to support the time trial on "Kö" avenue. "It was bucketing down, but we could not have cared less, because it was such a thrill," the Ratingen-born technician remembers, his eyes sparkling with enthusiasm. And Hall 6 also made a little dream come true for Maurin, himself passionate table tennis player: "Playing on the Centre Court tennis table later played on by Timo Boll – even if only just for rehearsals – was a great feeling!"
He came to stay: mixer and percussion are his passions
You quickly realise: for Maurin profession and passion go hand in hand. He actually wanted to study law after taking his school-leaving exam. However, percussion and sound mixing proved way more attractive to him than dry legal paragraphs. He has played the drums since he was ten. And from grade 7 until his final exams he increasingly took to the sound mixer. A passion that came to be his profession. And music became a career he is still pursuing intensely to this very day: first as a band member and since 2016 as a producer of techno sounds which can be heard on Spotify, to name but one streaming service.
Also feasible: a dormitory in three exhibition halls and a "shower village" for 30,000 guests

Without this passion shared by the whole team major tasks such as the International Youth Day of the New Apostolic Church (IJT) could certainly not be mastered. The set-up for this seven-day event alone deserves recognition. Because the IYD is a church congress on a mega scale: occupying the entire fairgrounds on over 260,000 m², including CCD and Merkur Spiel-Arena. To the tune of 30,000 young people from over 100 nations are on the premises – both day and night. Many guests stay overnight in the three exhibition halls converted into dormitories. Add to this, a purpose-built shower village and five stages outside, in the halls and the Arena. It's plain to see: a logistical challenge that found its masters in the Düsseldorf Congress team.
Europe's leading marketing conference: "Der Deutsche Marketingtag"

Challenges of a completely different kind arise in the business segment – such as the Deutscher Marketingtag held in December 2019 as Europe's leading marketing conference at the CCD as well as in the foyer and conference rooms of the new Hall 1. "Highly demanding in terms of event technology,"", says Maurin by which he means the sheer numbers: 50 speakers in all available conference rooms, presenting in parallel sessions almost constantly to a total of 2,000 guests, plus a gala to present the German Marketing Award.
Hybrid events and annual meetings in XXL format
This also applies to the key accounts that use the CCD for their annual meetings. Actually bread-and-butter business and yet – all new. Because for one year now these shareholder events including the general assemblies of Ceconomy AG have been organised as interactive live streams produced by Düsseldorf Congress.
And while he is still reporting this, he interrupts himself and suddenly starts speaking about a Chinese stage show presented at the CCD by Hunan Province some two years ago – featuring artistes on a piano-lacquer stage specifically built by the Düsseldorf Congress team. "A dream in black," he recalls and you can tell – this was another one of those moments he mentioned right at the start.

Redaktion
19. May 2021