Messe Düsseldorf celebrates topping-out ceremony for new Hall 1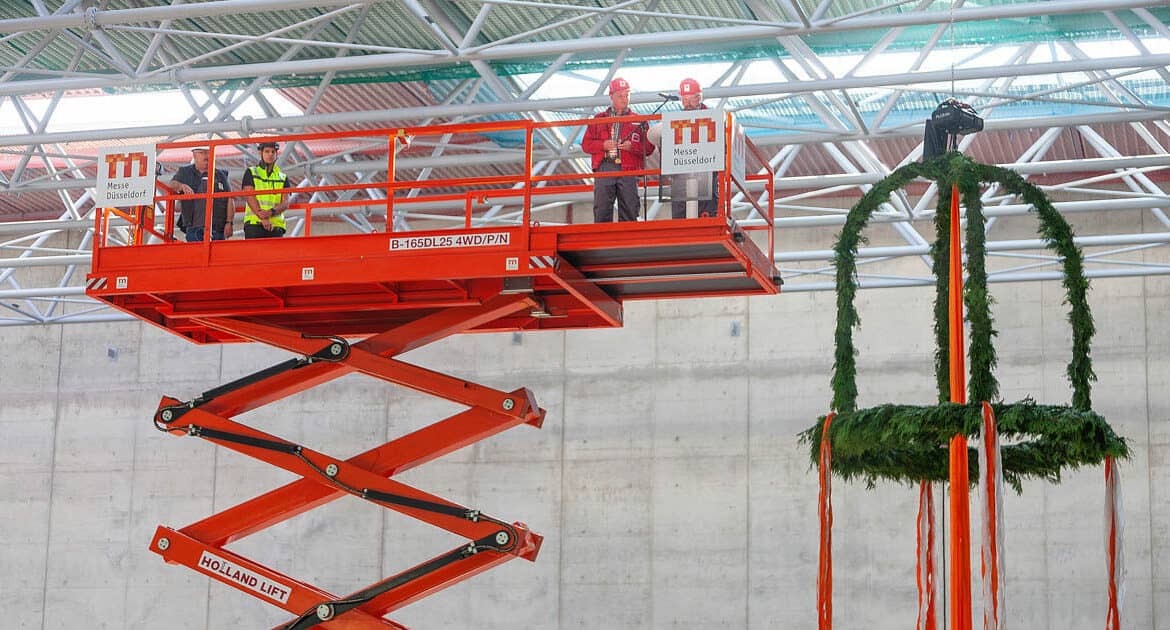 Düsseldorf's "New Meeting Dimensions" enters its "second half". On 14 September Messe Düsseldorf celebrated the topping-out ceremony of its new Hall 1.
The resulting set of buildings comprising the new exhibition hall and entrance Süd/South takes Düsseldorf to the next level as an international exhibition and convention destination.
Thomas Schulte and Holger Meyer, the two foremen of the Osnabrück-based firm Köster GmbH, delivered the traditional topping-out speech at the major construction site on the Rhine. Alongside the management of Messe Düsseldorf with its CEO & President Werner Dornscheidt, the workers involved in the construction works also took part in the ceremony. Also present were Düsseldorf's Lord Major Thomas Geisel, representatives from political and administrative spheres, the supervisory boards of Messe Düsseldorf and of Düsseldorf Congress as well as the architects from the Düsseldorf office slapa oberholz pszczulny | sop.
Autumn 2019 is to see the completion not only of the new multi-purpose Hall 1 with conference rooms but also the completely glazed, new entrance concourse South/Süd with a translucent, illuminated canopy and adjacent underground parking. Measuring 12,027 square metres Hall 1 will accommodate up to 10,000 persons. Added to this will be six glazed conference rooms measuring 200 m² each to accommodate 198 persons on the first floor. One of these rooms protrudes into the foyer of the new south entrance with 2,112 m² of event space. At a height of 20m and extending over 7,800 m², the canopy covers a plaza featuring a taxi-rank, local public transport stops and the entrance to the new underground garage. This forecourt is also suited for events. "The building complex will boost Messe Düsseldorf's international appeal even further and strengthen its function as a central meeting point for a wide variety of industries," says Werner M. Dornscheidt, President & CEO of Messe Düsseldorf. "This move puts us in a pole position."
CCD Congress Center Düsseldorf, which is directly linked to Hall 1 by a walkway, is also given a facelift thanks to this building project and now extends its capacity to 16,000 persons. Commenting on the new additions Hilmar Guckert, Managing Director of Düsseldorf Congress, said: "With this new building, the increased capacity and the improved quality of stay CCD Congress Center Düsseldorf is even better prepared to meet the requirements of major conventions, meetings and corporate events. This is an important step for the future of the international convention business in the North Rhine-Westphalian capital."
Lord Major of Düsseldorf and supervisory board chairman at Messe Düsseldorf GmbH Thomas Geisel also highlighted the added advantages for the state capital: "This not only benefits Messe Düsseldorf and Düsseldorf Congress but also the city. After all, the international customers of the Düsseldorf fairs and conventions spend more than a billion EUR in the city, thereby securing over 16,600 jobs in Düsseldorf and accounting for almost one third of all overnight stays in the city. All of this generates annual tax revenue of over EUR 36 million. The "Neue Messe Süd" will contribute to consolidating this success."

Katharina Kellner
10. October 2018