Move from Cologne to Düsseldorf: "Tonmeistertagung" held at CCD for the first time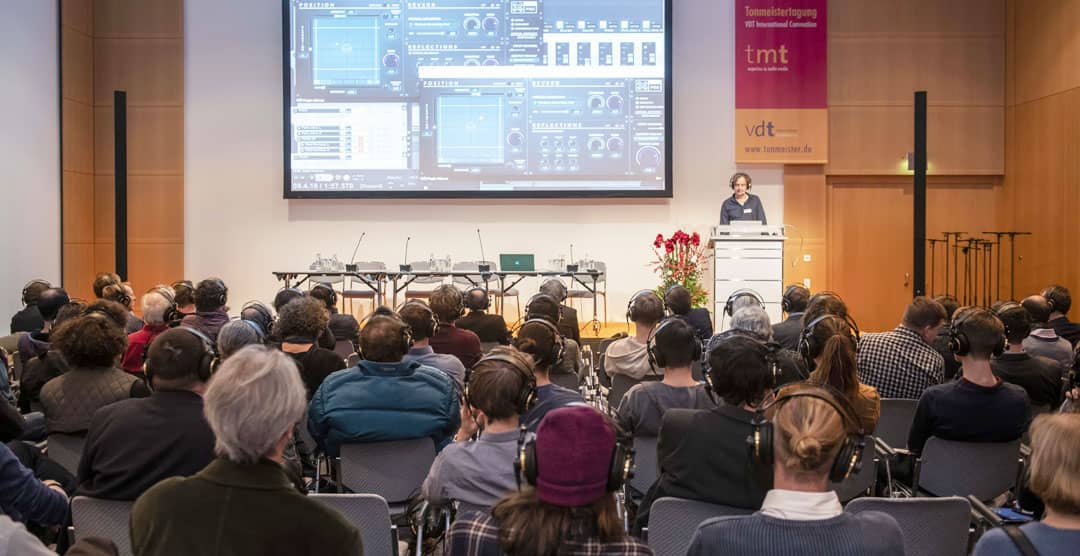 Maria Kofidou: "International conference is a gem for Düsseldorf"
They always strike the right chord – be it in movies, on the radio, on stage or in concert. And they make sure that sound is as perfect as possible whenever somebody speaks, sings or presents. We are talking of sound engineers who turn listening to media into a sensual experience and delight. More than 2,100 of these "sound artists" are organised in the Sound Engineers' Association in Germany alone, which was established in 1949 and is headquartered in Cologne. This means this professional association is one of the oldest and biggest in the sound sector.
Tonmeistertagung – the summit of audio professionals comes to Düsseldorf
Every two years audio professionals convene at the "Tonmeistertagung" (TMT), the international expert conference with exhibition that brings together the "Who's Who" of professional audio productions for four days. Registering over 5,000 participants from both home and abroad this conference is internationally one of the most renowned events of its kind.
Since 2012 TMT has been held in Cologne. Now it is moving to Düsseldorf and the CCD. From 3 to 6 November the expert community will meet here at TMT31, held for the 31st time. At this Conference experts from movie, broadcasting and TV productions as well as the stage and studio sectors will exchange ideas on current trends and innovations in product development, research and practical applications.
Decision sends a signal
To Maria Kofidou, Managing Director of Düsseldorf Congress, this decision acts as a signal: "TMT is a gem for Düsseldorf. Especially for the re-start after the pandemic it is a good sign that audio professionals have now made a deliberate choice for Düsseldorf as a location."
This view is also shared by Renate Paxa, Press Spokeswoman of the "Bildungswerk des Verbandes Deutscher Tonmeister" (training institute of the German Sound Engineers' Association): "CCD is an ideal venue allowing us to link all activities in the congress and exhibition area on one central level while retaining if not intensifying the family-feel of the event"
Tonmeistertagung will remain a "Düsseldorf fixture" in future, too
Even though this 'family reunion' will probably be a little smaller and less international since especially travellers from the USA, Canada, Australia, China, Japan, Korea, Russia and Africa cannot travel without restrictions or at all – Renate Paxa is already entirely confident of one thing: "CCD will also offer TMT a suitable new home for coming years, since here congress and exhibition areas seamlessly blend with each other. Furthermore, CCD boasts a versatile room concept with ultimate flexibility and state-of-the-art technical equipment as well as first-class services." And this strikes a note with Maria Kofidou's team.

Mike Seidensticker
7. October 2021