Review 2021: CCD Convention Center Düsseldorf is No. 1 Congress Centre for AGMs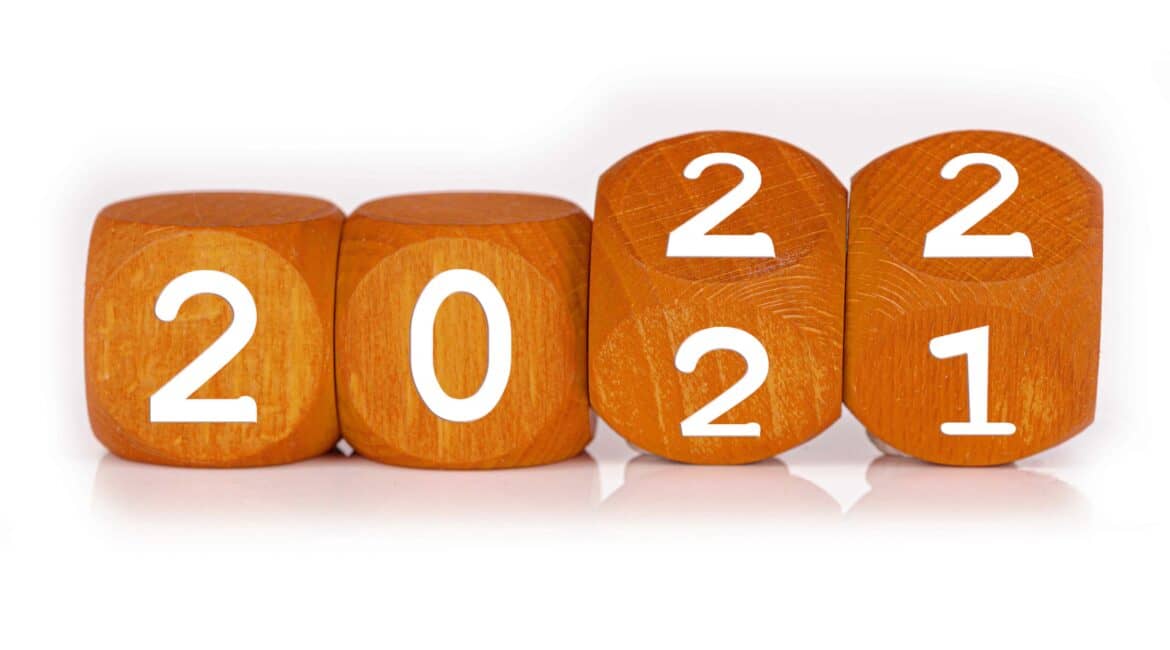 "What next?" Sure: this anxious question did resonate at the beginning of the year – such a short time after the lockdowns. Would this situation repeat itself in 2021?
In fact the opposite happened: "new" was dubbed the 'word of the year' at Düsseldorf Congress – packed with innovations, impulses and creative ideas. And these all showed one thing very clearly: the future needs origins and experience to develop something new on the basis of professional know-how.
The difference this experience makes also became clear again in 2021 – in our complex production for the Deutsche Gesetzliche Unfallversicherung DGUV (German Statutory Accident Insurance) celebrating its 100th anniversary as part of this hybrid conference.
The "big screen" was called for here. With a format that integrated various streams and settings on a central online platform: live features broadcast from the CCD, videos-on-demand and pre-produced reports. A total of six shooting days had to be completed in just one week; with a crew which had everything it takes for professional TV productions – from image, light and sound engineering to camera technology not forgetting props and a make-up artist.
And a "big hand" at the end – for the team effort and creative cooperation that Thorsten Schmitt of "DGUV-Landesverband West" summed up in three words: "expertise, innovation, and excellence".
Live events – safety included
Düsseldorf Congress also made a key impact with its physical operations. The bookings for 2021 listed 314 events on 143 days. A remarkable result in view of the overall situation often overshadowed by uncertainties. Based on safety and hygiene plans conceived early on some highlight events could be held safely in 2021: SPOBIS, Europe's biggest sports business event that attracted the Who's Who of sports marketing to CCD in March. DoKomi, which became the big family reunion for many Manga and Anime fans. The German Fruit & Vegetable Congress (Deutsche Obst- & Gemüse Kongress); and – for the first time in Düsseldorf – the "Tonmeistertagung TMT31", the shining new gem in Düsseldorf Congress' line-up of events.
Düsseldorf Congress – No. 1 for AGMs at the Congress Centre
Düsseldorf Congress also proved the winner in the AGM segment, the majority of which was held virtually due to the COVID-19 legislation.
After all, nearly one third of prime-standard companies use external venues for their AGMs – according to a current survey by HV Magazine. Here, venues that offer stage direction, camera equipment, lighting, sound and streaming from a single source are in particular demand.
This is expertise that Düsseldorf Congress has been associated with for decades. No wonder CCD Convention Center Düsseldorf hosted more virtual AGMs than any other convention centre in Germany that year. Of all venues hosting virtual AGMs in 2021, Düsseldorf Congress ranks 3rd in Germany.
Germany's best apprentice – is one of our own
The story of our very own Juliane Hampl shows that in a high-quality professional environment and with the Düsseldorf Congress team, talents can become charming champions. After completing event management training at Düsseldorf Congress, this 22-year-old not only achieved the best exam score with dream results of 98% in the Düsseldorf Chamber district, the Krefeld-born apprentice also had the edge nationally coming out on top as the best in her profession in the whole of Germany.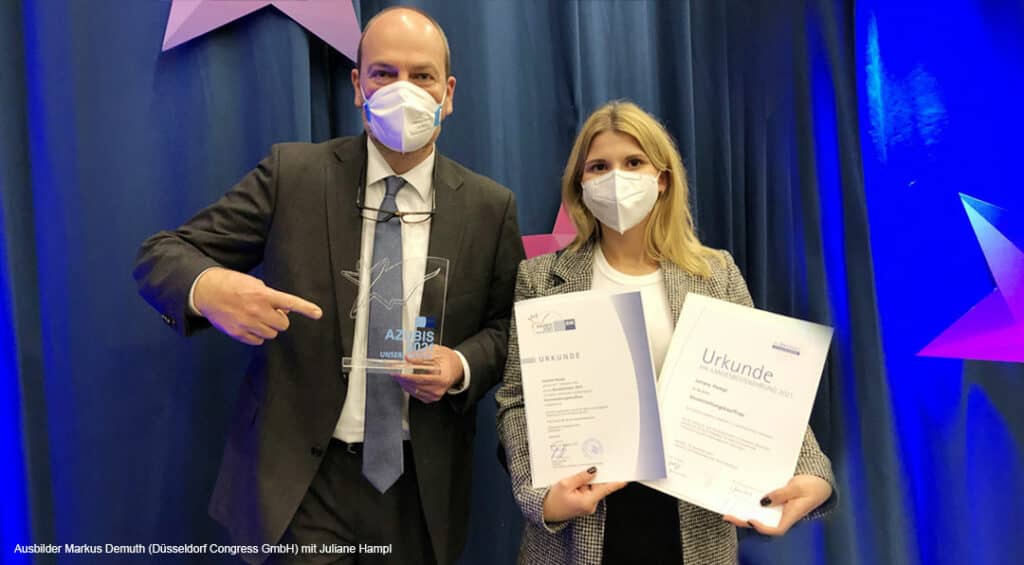 Düsseldorf Congress launches content offensive
2021 also marked the kick-off for a completely different field: Düsseldorf Congress caused a stir with a targeted communication and content offensive. The most "audible" result being the event podcast "RheinPersönlich" (lit. "Strictly Personally" with a pun on rein = strictly and Rhein = Rhine). Here regularly experts from the MICE industry were welcomed for interviews on the virtual sofa. In addition to this, our informative Whitepapers provide a knowledge base which can be accessed free of charge by existing and aspiring customers. The most "visible" result of this initiative is the editorial content on social media. Here, Düsseldorf Congress has now taken a pole position. In our "Room Stories" guide the CCD venues themselves are "given the floor" and tell readers about events both big and small they have hosted. And always within the context of the "People of Düsseldorf Congress" – a column featuring people "behind the scenes": here the team at Düsseldorf Congress is introduced in a strictly personal way – "RheinPersönlich" so to speak.
Because here too future needs origins and a highly experienced team that works smoothly hand in hand.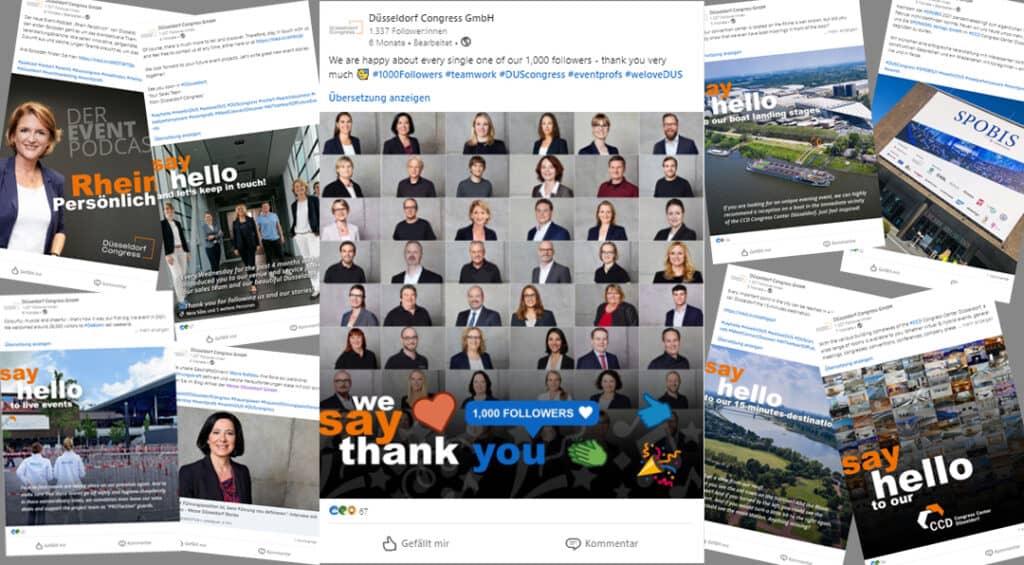 Redaktion
3. February 2022