Review of 2019 – an excellent year for Düsseldorf Congress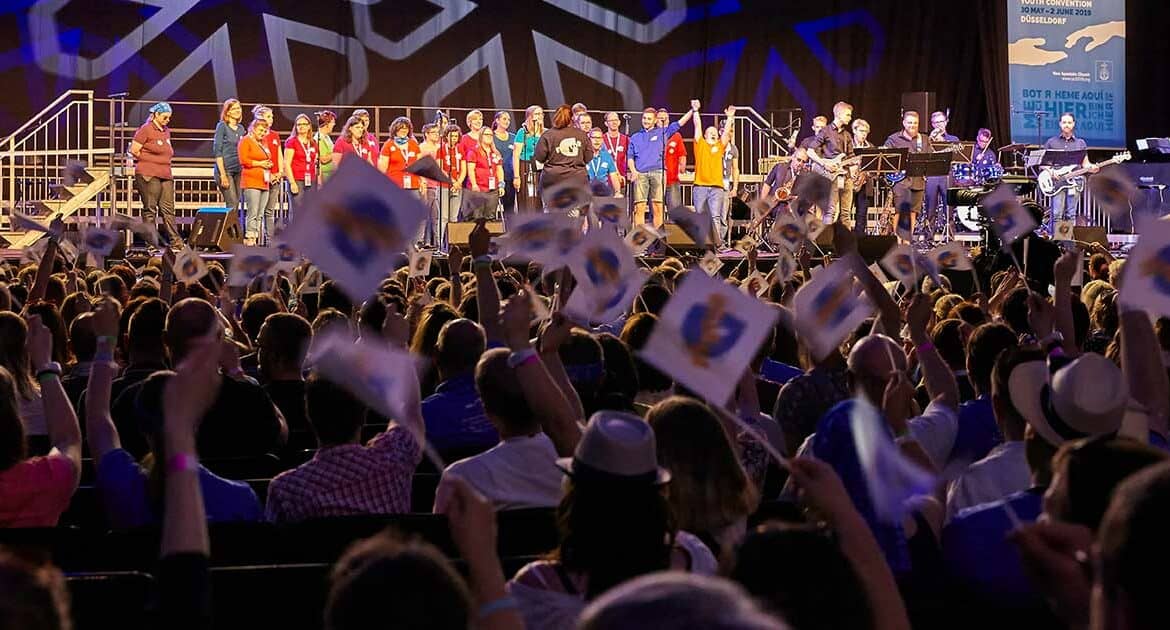 Community events with tens of thousands of visitors, several prestigious international medical and scientific conventions, major corporate events, international sporting events and TV productions involving celebrity artists – Düsseldorf Congress can look back to an excellent year.
The events industry has its normal years, excellent years and years which can be summed up in a single word: WOW!
2019 certainly fits this description for Düsseldorf Congress. The days and months seemed to fly by, with one (event) highlight following another.
One event stood out, in particular: The International Youth Convention of the New Apostolic Church (IYC) (IJT), which was held in Düsseldorf from 30 May to 2 June and attracted around 30,000 young people from all over the world.
We – the Düsseldorf Congress team – would therefore like to take the opportunity to review 2019 with you.
January is a time of new beginnings
Although the first thing that happened was not an event, it heralded a major change in 2019 and should therefore not be forgotten. On 1 January 2019 Maria Kofidou started as the new CEO of Düsseldorf Congress GmbH, taking over from Hilmar Guckert.
"We achieved a lot last year, and we have great plans for 2020 now. Our main focus will always be on our customers, as we continually strive to increase the positive experiences of our customers, and also the experiences of their customers." – Maria Kofidou, CEO of Düsseldorf Congress.
SPOBIS 2019 in Düsseldorf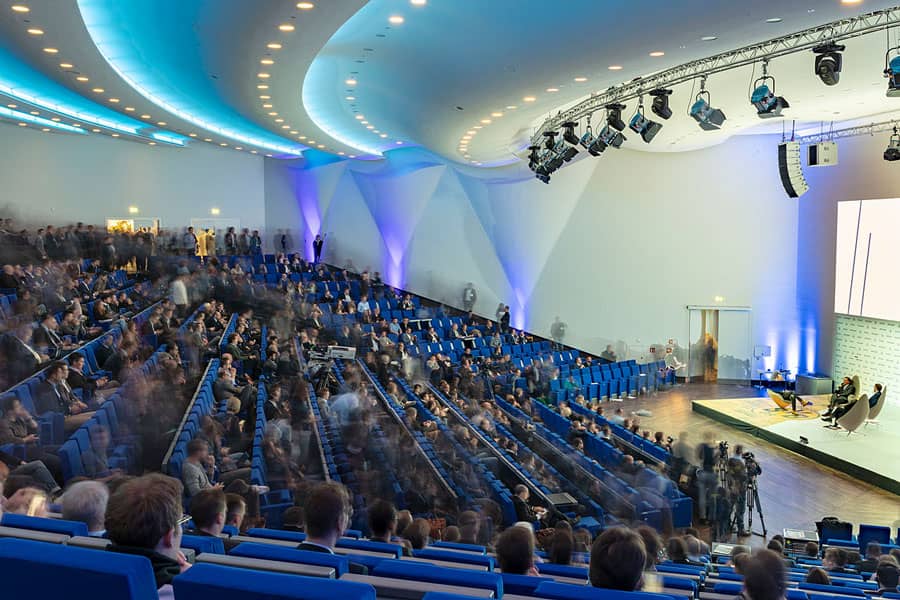 The year started with SPOBIS 2019, Europe's leading sports business convention and the traditional meeting place for top decision-makers in the sports industry. Over 3,500 delegates and 150 speakers from both Germany and abroad spent two days discussing the most important trends and topics in the sports business.
AAD German Ophthalmological Academy
The 20th German Ophthalmological Academy (AAD), the biggest CPD event for ophthalmologists in the German-speaking area, attracted over 6,000 eye doctors and other ophthalmological professionals to Düsseldorf.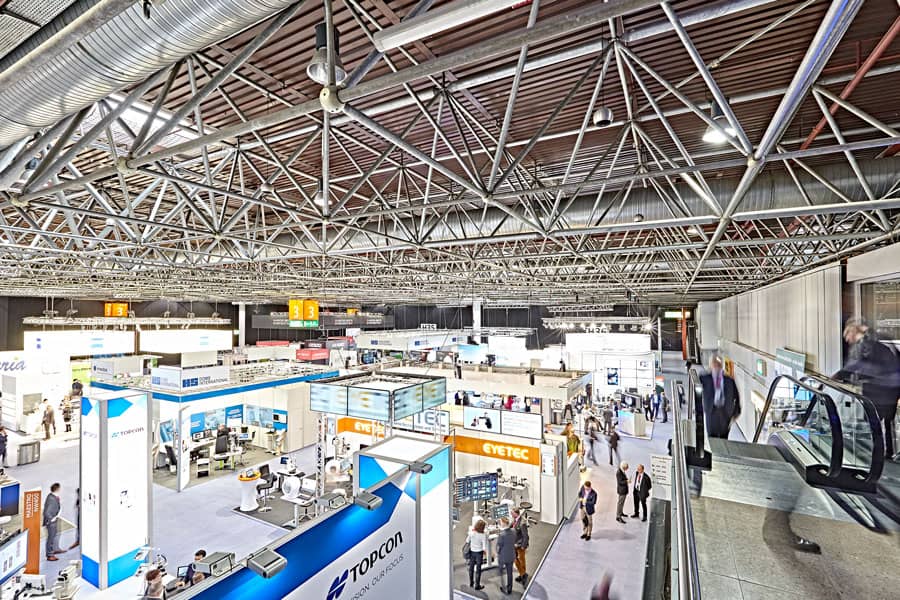 The five-day convention covered tens of thousands of square metres and featured 200 presentations, sessions and workshops as well as a large-scale exhibition.
doTERRA – over 8,000 Wellness Advocates in Düsseldorf
One outstanding event last year was undoubtedly the European convention of the US company doTERRA, a manufacturer of essential oils and other wellness products. doTERRA in Düsseldorf on 17 and 18 May was attended by over 8,000 Wellness Advocates, offering opportunities to network and learn about innovative products.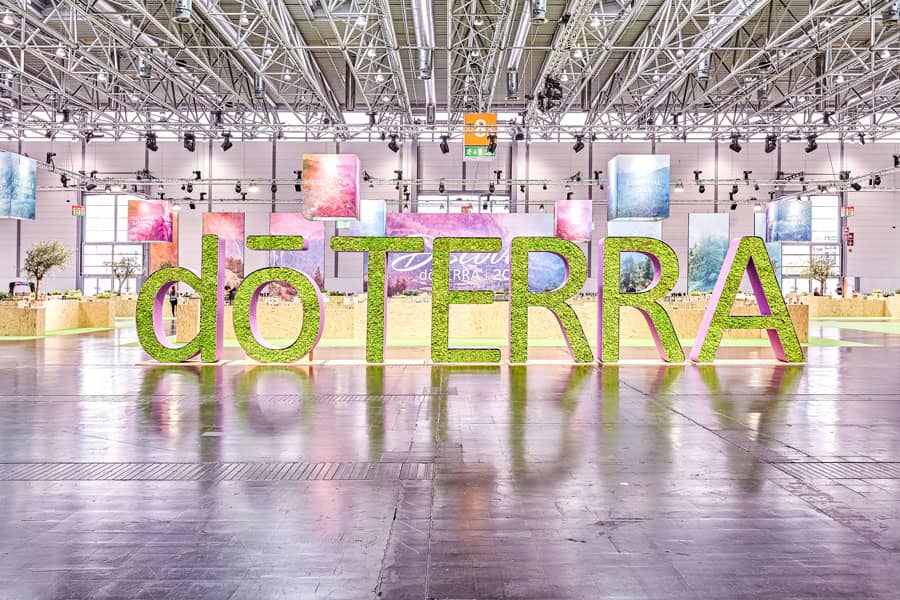 One particular highlight for delegates was a gala dinner on the first evening of this corporate event. A specially themed space was created for this occasion, with large LED walls and a dance floor.
IYC – St James's Route or Green Route?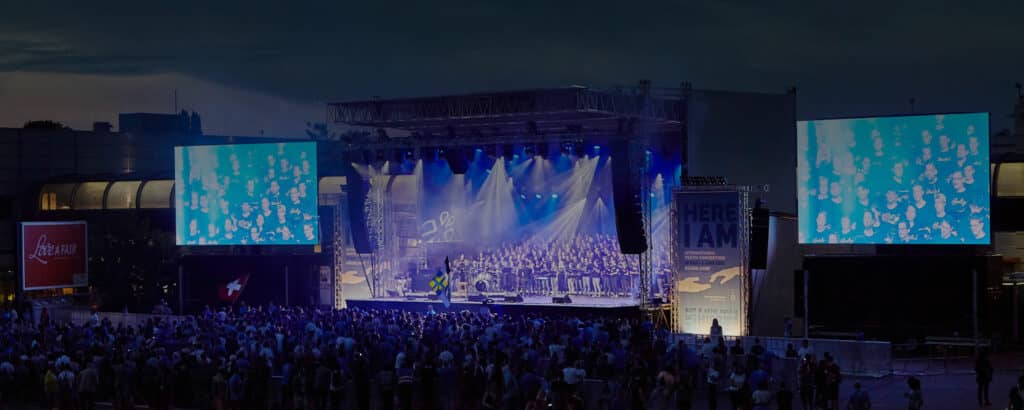 The International Youth Convention of the New Apostolic Church (IYC) was held in Düsseldorf on the Ascension public holiday weekend from Thursday 30 May to Sunday, 2 June and attracted around 30,000 young people from all over the world.
The planning of this large-scale event started two years in advance. "While preparing for the IYC we had countless meetings with our customer, sometimes involving miles of guided tours around the event space, i.e. the exhibition centre including the two convention centres, parking facilities, the sports park and the arena," says the project manager Katja Berger. And Björn Fritze, the technical project manager added with a smile: "We ended up with over 1,000 files in the planning folder – several GB in all."
It was important for the project team to fulfil the customer's creative and sometimes unusual wishes while at the same time observing all the legal regulations and requirements which are involved in such a major event.
To offer sufficient overnight accommodation for the IYC guests, Halls 9-16 were simply turned into temporary dormitories. At the same time, a shower village was created behind Hall 13, with 420 shower units in containers as well as toilet facilities for 20,000 people.
Two other halls served as catering areas, while Halls 5, 7a, 7.0-7.2, 8a and 8b were used as event space, with four stages and seating for around 30,000 delegates. An open-air stage was also set up, serving an audience of 20,000.
"The stage is normally used for festivals, such as the Haldern Pop Festival. It was really cool to see such a big stage in the middle of the exhibition grounds," says Björn.
The opening and concluding worship services and other large-scale programme items were all held in the MERKUR Sports Arena. A sophisticated health and safety system was in place, channelling the young people from the exhibition centre to the arena along four different routes. The routes were colour-coded and differed in length. While the 800-metre Pink Route was the shortest one, visitors taking the Green Route had to spend 45 to 50 minutes walking to the arena – prompting quite a few youngsters to demonstrate their running skills.
Memes and Bible verses along the way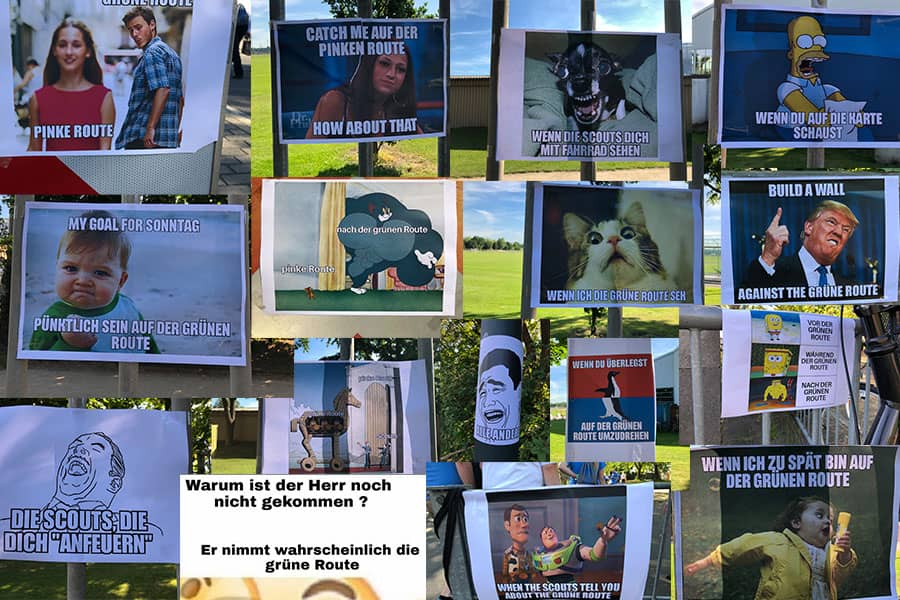 #grüneroute (Green Route)
Katja says: "We were quite worried actually that the whole thing might go pear-shaped and the YJC youngsters would just refuse to use the long route, particularly as it was quite hot. Instead, everyone had great fun. Even now you can still find the hashtag #grüneroute (Green Route) in various posts on Twitter and Instagram."
Damit ihr das mit der #grüneroute am #ijt2019 #IYD2019 mal versteht…. 😂 pic.twitter.com/ZwuWIz92J9

— ѕσρнєℓ (@Schweinemonster) 3. Juni 2019
But the IYC was also a special highlight for other Düsseldorf Congress staff, such as our events engineers Annette, Ralf and Klaus.
"We planned and implemented the Network and Signal Distribution project across the entire exhibition centre on our own, as a small team, with the support of the Messe Düsseldorf IT Department. Yet we didn't have much time to prepare, and we also had to check our customer's many requirements and wishes for their technical feasibility, whether they were technically possible within the infrastructure of the exhibition centre and whether they could be realised within the agreed budget.
In the end, however, the technical side went without any hitches, so that it remained completely unnoticed. This is of course how equipment and technical systems should work," says Klaus-Dieter Kusen, senior events engineer at Düsseldorf Congress.
Dokomi – Japanese pop culture in Düsseldorf
Founded over 10 years ago, DoKomi has developed into Germany's biggest Animé and Japan Expo. It is now a major fixture for European fans. This year alone DoKomi attracted 55,000 visitors to the Düsseldorf Exhibition Centre. As well as an exhibition with around 650 stands featuring animé, manga and Japanese culture, visitors enjoyed a colourful programme of countless live acts, an exciting Cosplay Championship, a Lucky Chocolate Maid Café and a Japanese Food Festival. In addition to the event itself, cosplayers particularly enjoyed several long photo shoots in the nearby Nordpark.
Liza Quick, Head of Project Management at Düsseldorf Congress says:

"Although I've worked for Düsseldorf Congress for quite a while now and have always enjoyed this cheerful community event 'from the sidelines', as it were, this year it was 'my project', and I was able to work with these great people and put together something really big. What an event! 50,000 satisfied guests – all in different colours, all enjoying their time at our exhibition centre and in the Nordpark. I think the photos say it all!"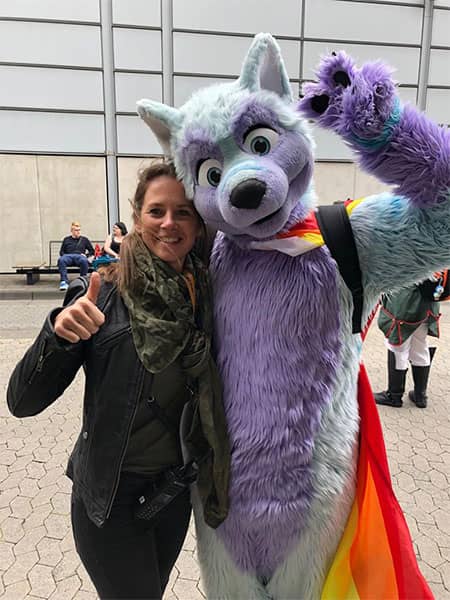 "I really enjoyed managing this two-day event with my colleagues on the DoKomi team. We all supported each other and had lots of fun."
Made of Steel – European Fencing Championship in Düsseldorf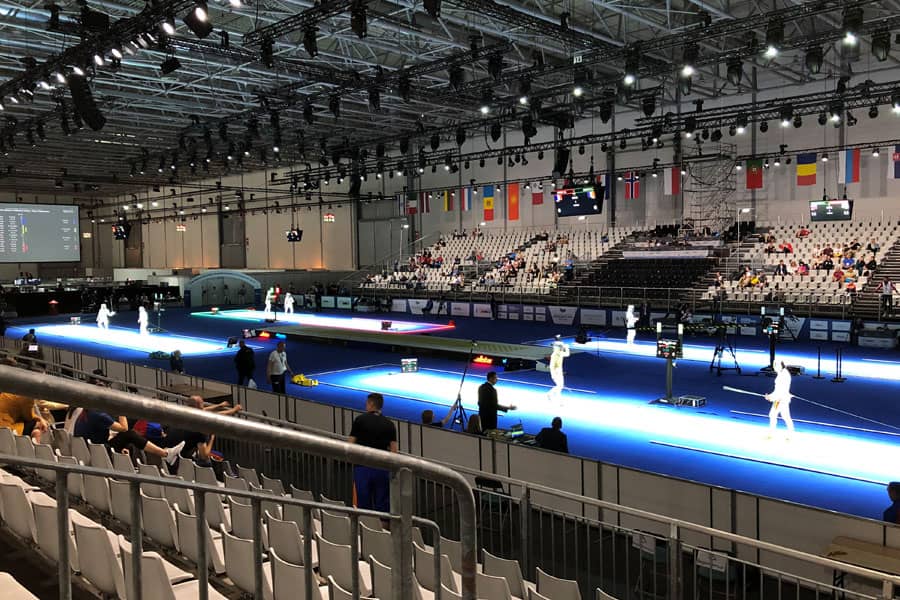 Spectacular duels, exciting contests and beaming winners – the European Fencing Championship was the greatest sports highlight of the Düsseldorf summer. Under the motto "Made of Steel", 450 international athletes crossed swords in single and team events in three disciplines: Foil, Epée and Sabre. Fencers had the opportunity to win a European championship title and also to collect important qualification points for the 2020 Olympic Games in Tokyo. The European Fencing Championship was held in Hall 8b, which had been equipped with ultramodern pistes for the occasion.
Germany's marketing community convened in Düsseldorf, a major meeting place for creative minds.
They met at the Congress Center Düsseldorf (CCD) on 4 and 5 December 2019 to discuss the latest trends and most important developments in the industry. The kick-off event of the 46th German Marketing Convention took place in the generously proportioned foyer of the new Hall 1. Flooded with light, the 2,000-sqm foyer with its modern architecture, glass façade and sophisticated light installations provides a perfect ambience for unusual events.
Outlook for 2020
By now the New Year is of course several weeks old. The first event – the exhibitors' evening for boot, the Düsseldorf boat show – has taken place successfully, and the next event – SPOBIS 2020 – is nearly upon us.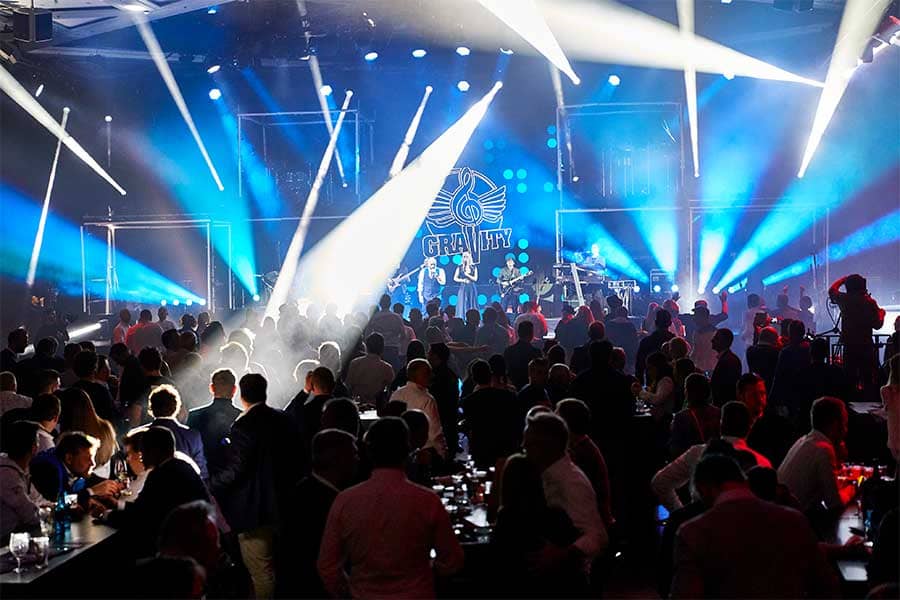 e are looking forward to an exciting year with outstanding events, including well-known fixtures such as AAD – the German Ophthalmological Academy and DoKomi. There are also several new events such as the sound engineers' convention, Tonmeistertagung.
Are you planning an event?
Our professional team would be pleased to walk the extra mile for you. We are passionate about events.

Katharina Kellner
28. January 2020