Stadthalle: Our "Grande Dame". Düsseldorf Congress' Quick-Change Artist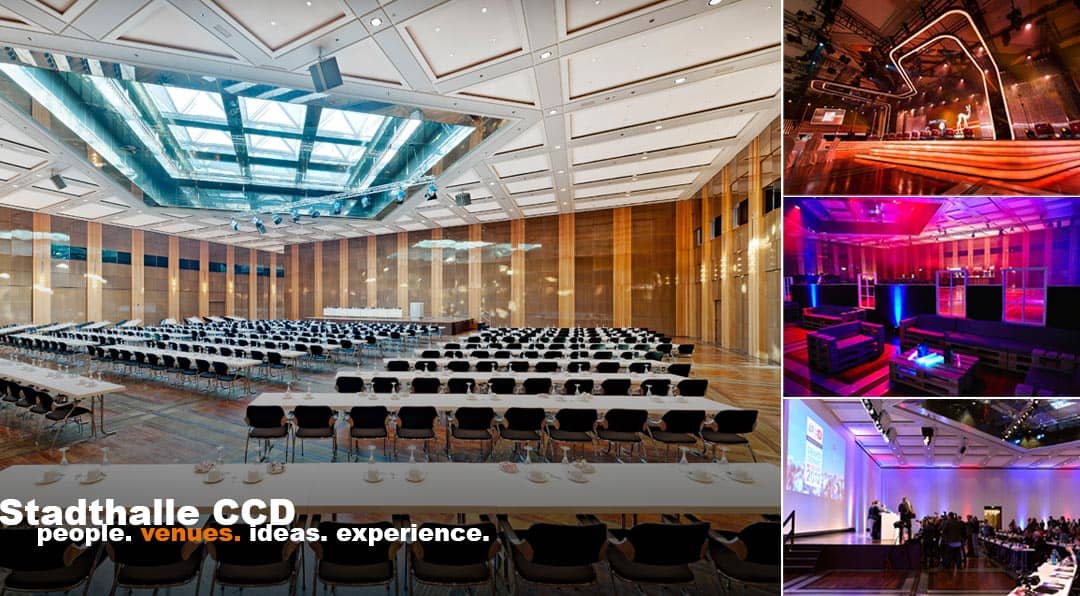 It is the "Grande Dame" among our venues and always a perfect hostess – be it for grand galas, political rallies, international conventions, annual general meetings or the ARD television session and Master Craftsmen Gala. Built in 1995 the "Stadthalle" is truly a quick-change artist offering space for 2,500 people. Its guest list and event track record are testimony to its core values and varied capabilities.
Gala, Glamour and Grandeur on a Glittering Stage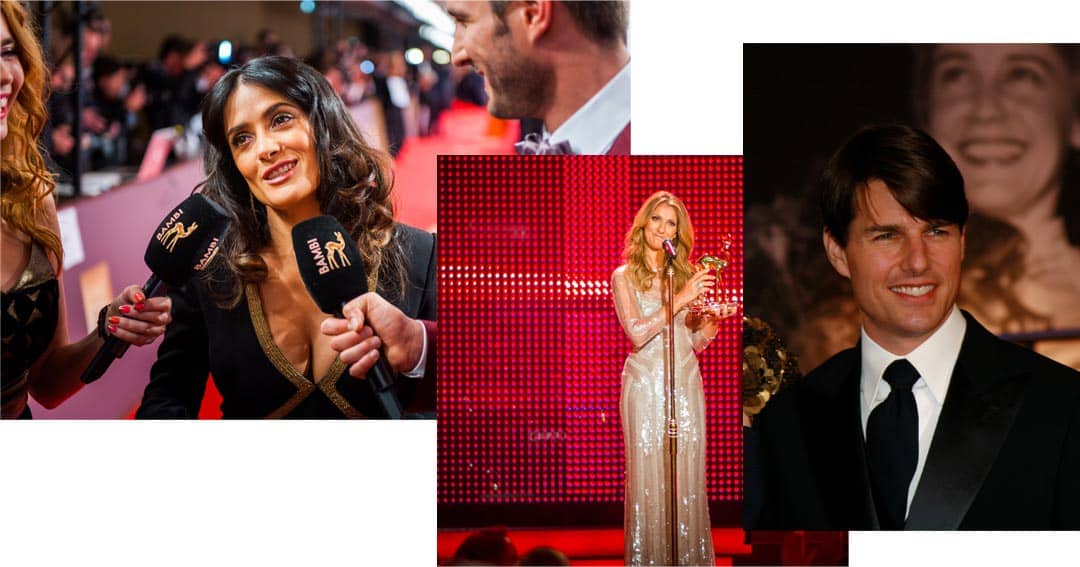 Elegant and glamorous in the flurry of camera flashes when world stars like Céline Dion, Sophia Loren, Tom Cruise or Salma Hayek walk down the red carpet at the BAMBI Awards. Already the flight of stairs in the foyer invites stars to make their first big entrance as direct vistas of the Rhine serve as the perfect backdrop for a night of grand emotions. This has a Hollywood feel to it as does the traditional Carnival Prince's Ball or the Düsseldorf Master Craftsmen's Gala brimming with Rhenish joie de vivre.
Nice for MICE: A Time to Make Friends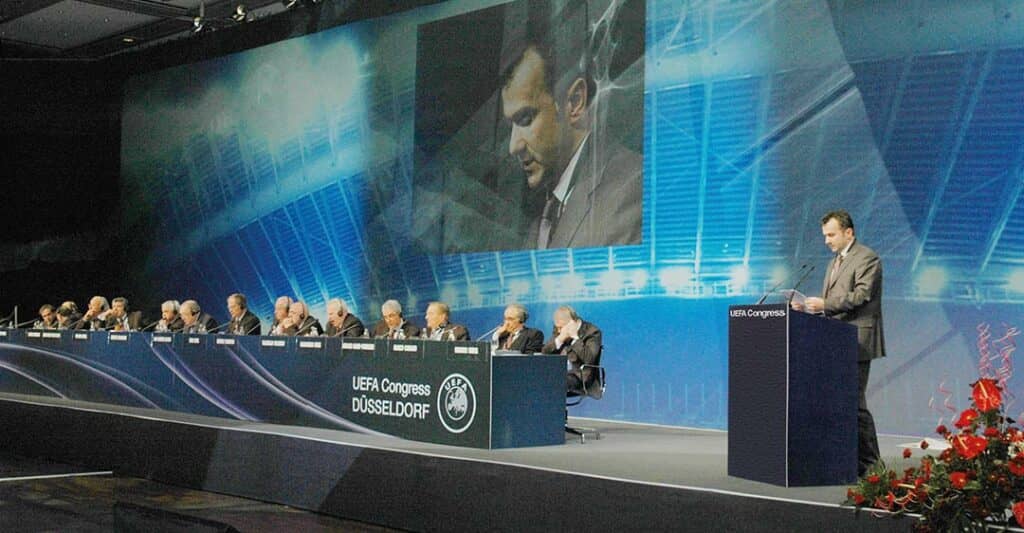 But our "Grande Dame" not only excels at galas. The world of sports also makes regular prominent appearances here. In 2007 the Stadthalle saw the "crowning of the emperor" when the UEFA Congress of the European Football Association was hosted there.
Though back then it was Michel Platini rather than the "Kaiser" Franz Beckenbauer who was elected the new "emperor" at the top of the association – to this very day the 1990 World Champion still regularly visits the venue that locals affectionately refer to as their city's "living room". After all, SpoBis, Europe's biggest sports business congress (and the entire CCD) has been held here since 2011.
Over two days it brings together the elite of top sports, sports rights marketing and industry in the North Rhine-Westphalian capital. Boasting over 3,500 delegates and 150 speakers SpoBis virtually plays in its very own Champions League – being Europe's most relevant congress for marketing sports rights. For the world of sports this hall has hosted this "home game" for ten years now.
Best Venue for Congresses and Annual General Meetings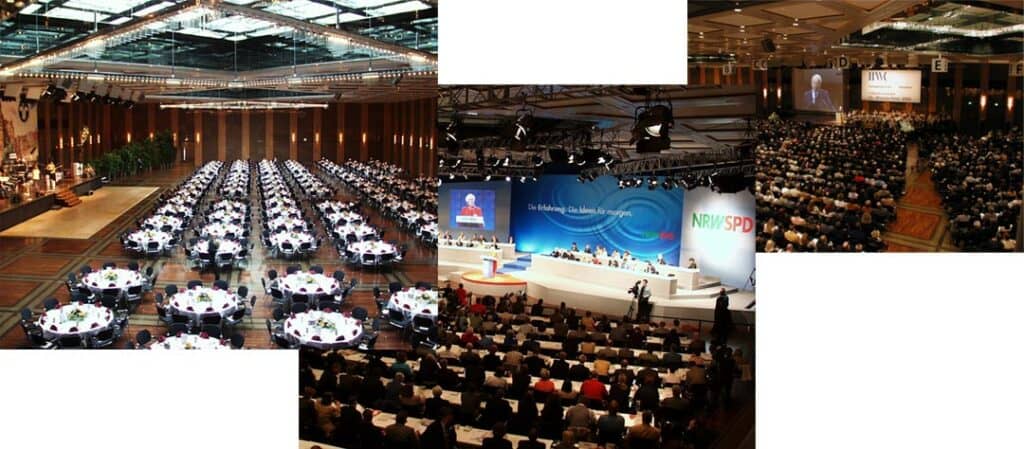 However, there is more to this venue than glamour, gladiators and galas on the glittering big stage – it can also be reserved, facts-based and functional. Offering precisely the right setting for annual meetings as appreciated by Dax 30 and major enterprises – it boasts a substantial, high-performance infrastructure with food service and other conference facilities. No wonder up to 100 annual meetings and general assemblies are held at the Stadthalle and CCD every year.
The Stadthalle also reinvents itself for PCOs and congress organisers – proving a veritable "space miracle" especially for congresses with accompanying exhibitions. Directly following on from Hall 3 of Düsseldorf Exhibition Centre it provides the ideal setting for concurrently held exhibitions and events. Here, over 20,000 m² of space are available convincing organisers with flexibility plus the highest technical standards and excellent amenities.
240 Reasons "underpinning" the Quality of the Stadthalle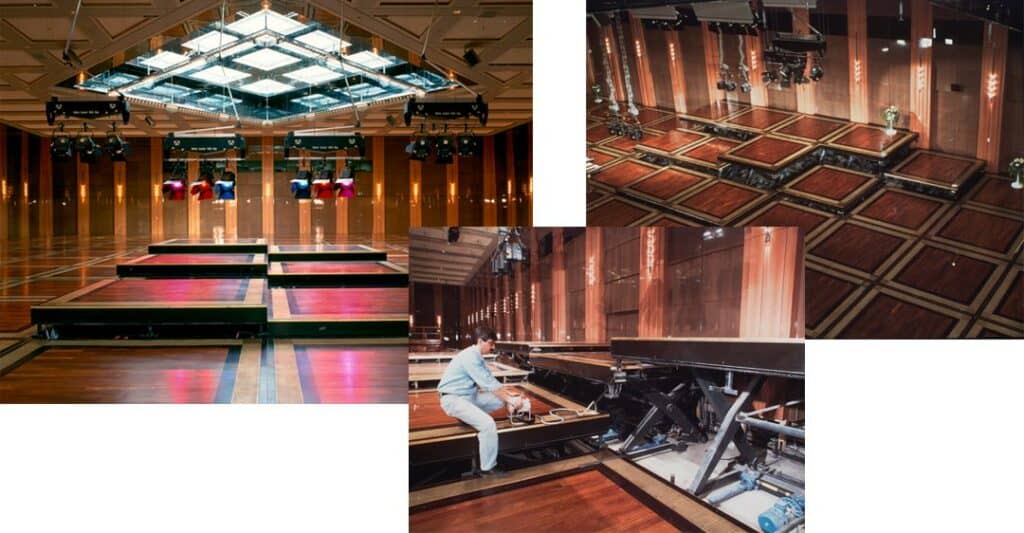 Speaking of highest technical standards and flexibility, the Stadthalle also captivates users with its "underground qualities". Its parquet flooring is made up of 240 floor elements measuring three by three metres, which can be lifted hydraulically to a height of 1.70 metres. Let our "Grande Dame" also surprise you with its quick-change "artistry" and be amazed by its hidden talents.

Redaktion
23. March 2021