Time to get things rolling: here
"New Normal"

meets with years of production experience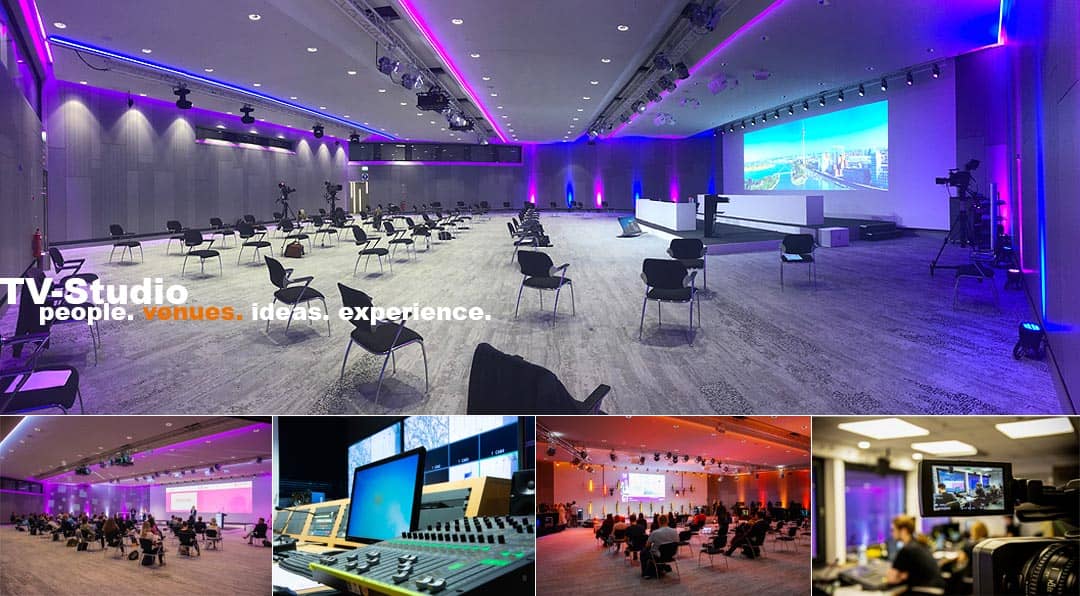 In the beginning there was the image. And we were convinced of this long before the realisation of digital and hybrid live events became a challenge for many event organisers. In fact, Düsseldorf Congress looks back on many years of experience producing moving images that move mountains.
Images that even "move" the movers and shakers: such as Chancellor Angela Merkel at the opening of Medica, Gerhard Schröder at the Master's Celebration of the Chamber of Crafts or IOC President Thomas Bach in a studio interview at Europe's biggest sport business event SpoBiS.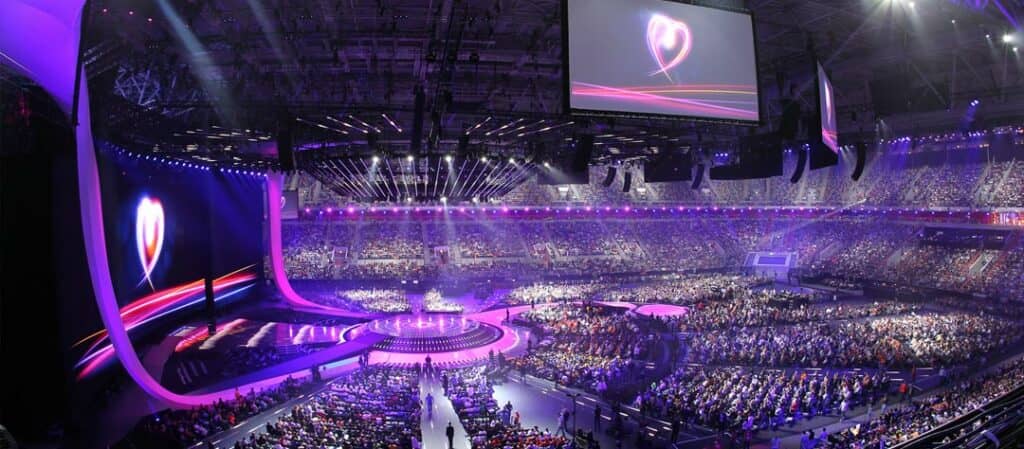 Who can claim to have staged such mega show acts as the Eurovision Song Contest, Bambi Award Galas and "Wetten, dass?" Saturday night TV shows? The team of Düsseldorf Congress that's who. After all, they are top-notchers also placing mammoth mergers in the limelight such as that of Thyssen-Krupp and Karstadt-Quelle. And the "Summer's Tale" – the 2006 World Cup – ran its course from here with the production of a 3D promotion video.
More than just technology: what makes the difference
Expertise is more than just "state-of-the-art technology". And this is precisely what makes the difference. We only get started where others often resign: consulting on set-up, developing a storyline, scenic realisation, and, of course, technical production all the way down to participant management. This way we ensure the dramaturgy of your event does not turn into a drama. Our longstanding expertise is your "bonus material" for the successful Director's Cut, that properly frames your ideas. Because we have professionals on set – rather than solo artists we will furnish you with an experienced crew that has already many successful productions under its belt. Always competent, geared to your event and likeable. That's the Düsseldorf way.
Here anything goes – turn-key and from a single source
We offer you everything you need for the live production of your event turn-key. With our studio "Raum 3" we offer you a multi-functional venue of almost 500 m² with stationary event and streaming technology. Precisely the right set-up for all formats of digital and analogue live communication.
We get your event rolling
Here everything is possible: "Roll VTR" for your event – be it a TV roundtable, a hybrid Townhall Meeting or a purely digital broadcasting format. We offer the ideal prerequisites for digital annual assemblies, congresses, web conferences and customer events – held either as digital-only or hybrid events, in combination with an event at the Düsseldorf Exhibition Centre, for example.
The spatial infrastructure and stationary event and streaming technology enable both live acts and panel events as well as painstakingly planned events or streamed productions in mixed-reality formats. To this end you can use a fixed stage with a multi-purpose backstage area. Nothing less than "state-of-the-art" is our brand-new sound, lighting and conference interpretation equipment.
We offer you (planning) safety
One thing is for sure: safety is a top priority for us – both in physical and digital formats, in meetings as well as in studio productions. Take our facilities for example – with new, high-performance ventilation technology and completely renovated fire safety equipment we focus on "Safety First". To ensure you can plan and meet safely in the current situation, we have developed a Hygiene and Infection Protection Guideline in cooperation with the relevant authorities, which we provide to you free of charge. For additional practical tips and checklists refer to our Workbook "Digital & Hybrid Events" that you can also request a free copy of.
Safety First: also in data privacy
We also set standards when it comes to data privacy guaranteeing GDPR standards. All servers used by Düsseldorf Congress are located in Germany and absolutely fail-safe due to redundant server locations. So you are also on the safe side with Düsseldorf Congress when it comes to your data.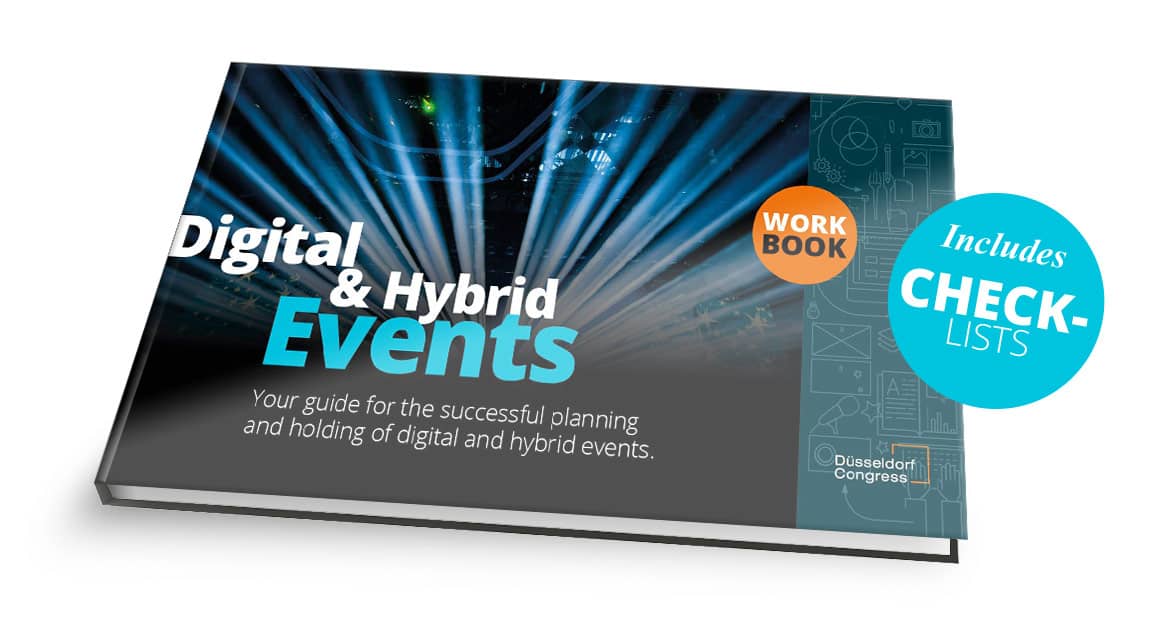 Workbook: "Digital and Hybrid Events"
Download now

Redaktion
28. April 2021