Tonmeistertagung held at CCD for the first time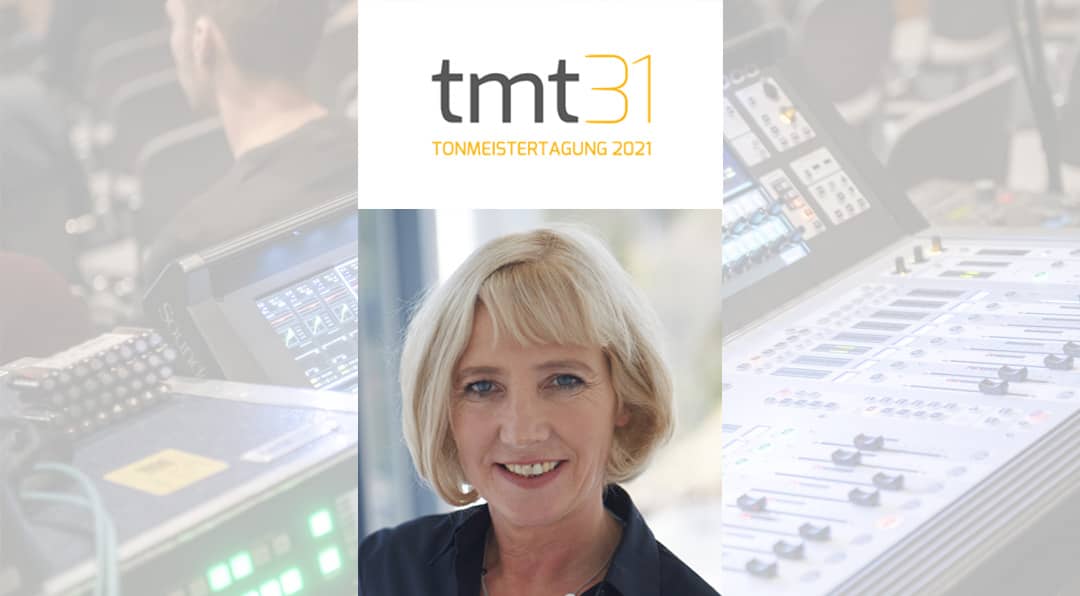 Interview with Dipl.-Ök. Renate Paxa
(Bildungswerk des Verbandes Deutscher Tonmeister GmbH)
Every two years the sector gets together at the Tonmeistertagung (TMT), the international expert conference with accompanying exhibition that brings together the "Who's Who" of audio production professionals for four days. Registering more than 5,000 participants from home and abroad this conference is among the most renowned events of its kind internationally. Now it is moving to Düsseldorf and the CCD Congress Center Düsseldorf.
Düsseldorf Congress says "Welcome" and spoke to Renate Paxa, Press Spokeswoman at the "Bildungswerk des Verbandes Deutscher Tonmeister" (training institute of the German Sound Engineers' Association), about TMT31 to be held at CCD for the first time from 3 to 6 November.
TMT had been held in Cologne since 2012 and has now changed location to Düsseldorf. What prompted the Association to re-locate the event to CCD?
Renate Paxa:
In the past, TMT already changed its location a number of times. Over the past years locations included Karlsruhe, Hannover, Leipzig and recently Cologne for three events. Cologne was definitely a great success but we also looked in the past at which premises are best suited to the special needs of a conference with exhibition time and again.
For decades the "Tonmeistertagung" with its family-reunion character has stood out with the fact that the congress area with expert lectures was closely linked and dovetailed with the exhibition area with product exhibition stands. You meet, you know each other, you easily make contact with all parties involved.
This is precisely why the CCD Congress Center Düsseldorf is an almost ideal alternative: here everything is located on the same floor, the meeting and exhibition areas can be ideally linked with each other, the family-type feel is even more intense and the location, travel options and accessibility as well as quality environment are very good and equally ideal.
This sounds as if you had come to stay with the TMT?
Renate Paxa:
By all means, CCD in Düsseldorf provides the TMT with a suitable new home for the next few years since here congress and exhibition areas seamlessly blend with each other. Furthermore, CCD boasts a versatile room concept with ultimate flexibility and state-of-the-art technical equipment alongside top-class services.
As an international summit meeting the TMT is known to attract participants from all over the world. At this year's TMT31, the 31st edition, some things are different. The meeting and convention business is also still characterised by the re-start. How does this impact the TMT?
Renate Paxa:
Yes, this is correct. This year we expect less international attendance than usual, since there are still travel restrictions to be considered. In the past, we had visitors from the European region and several (groups of) visitors from the USA, Canada, Australia, China, Japan, Korea, Russia and Africa. Often, these attendees were also lecturers at the Conference. This part will definitely be smaller this year. On a positive note, 80 professional audio brands will present themselves in the exhibition area. However, this is just the current figure as we are receiving further requests almost on a daily basis. Therefore we can safely say: whoever attends is in for a TMT in "master engineering" quality.
Which particular topics are currently in the foreground?
Renate Paxa:
Our evergreen "Immersive Audio", or 3D Audio in other words, expands the focus on recording and reproduction, i.e. microphone arrays, multi-channel systems, binaural and headtracking, to include applications such as MPEG-H streaming and game sound. PAs and system design for concerts and installation form just as much part of the range as recording equipment, theatre and movie sound engineering, "soundscapes" and sound design.
The online event of the VDT in autumn last year strongly focused on the theme of "audio networking".
Will there be regional projects – involving the WDR-Landesstudio Düsseldorf, example?
Renate Paxa:
Yes, like in the past we have planned excursions to institutions and companies in the readily accessible vicinity of the venue. Due to the COVID restrictions this year, however, we will not be able to organise bus trips to companies located further away.
Destinations for excursions in Düsseldorf include the Robert Schuman University as well as the Technische Universität Düsseldorf, since these two universities have for a long time offered a combined sound and image engineering curriculum together, which many VDT members have studied in the past.

Redaktion
14. October 2021