Virtual Conferences transmitted with Unrivalled Quality and Highest Safety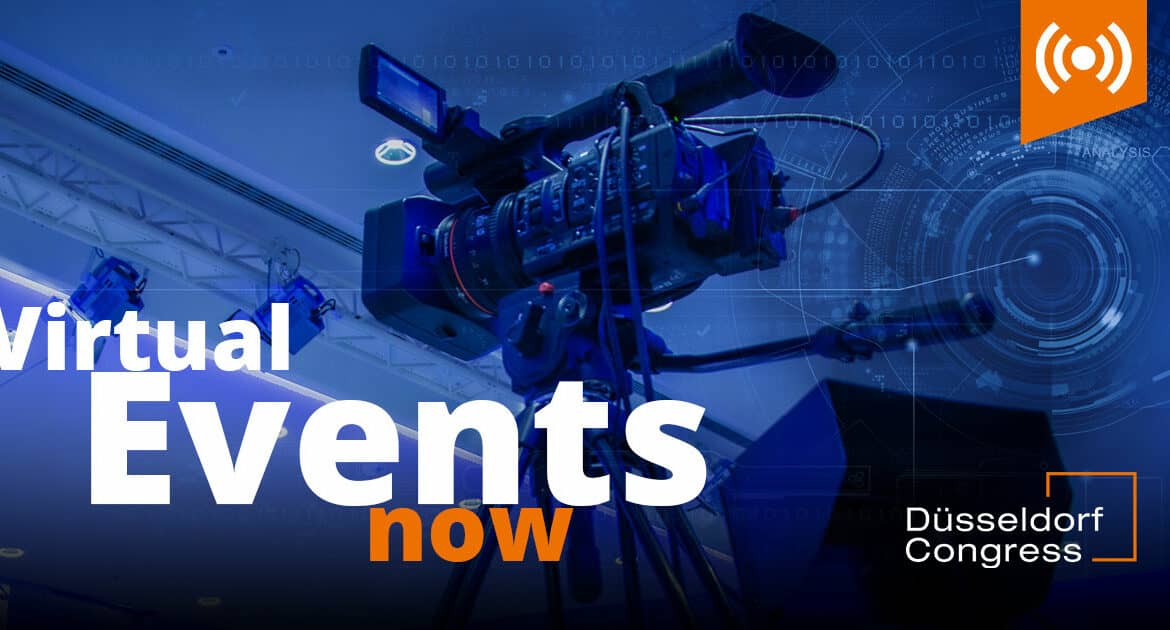 Be it web conferences, digital Annual General Meetings or virtual customer events – we realise your digital or hybrid events with you including video production, encoding and live uplink on site complete with set-up and support. The spacious and flexible facilities of CCD Congress Center Düsseldorf serve as a professional broadcasting studio.
Virtual and Hybrid Events – Knowledge Transfer, Emotions and Maximum Flexibility
The trend towards virtual or hybrid events has already been visible for several years now but been given a real boost by the Covid-19-related restrictions imposed on the event industry.
The huge demand for digital event solutions here reveals two factors above all: the great need for people-to-people communication – both analogue and digital – and the pivotal importance of events as platforms for dialogue and exchange of knowledge transfer.
With the aim of providing our customers with a space for communication, debate and information transfer in this extraordinary situation and beyond – such as against the background of sustainability or target group extension Düsseldorf Congress has extended its portfolio to include professional streaming solutions.
Live Productions right from your Desired Venue at CCD Congress Center Düsseldorf
In this case the events here are held in modern conference rooms at CCD Congress Center Düsseldorf: depending on the desired format and customer requirement options range from a simple stream with one or two camera positions, for webcasts or virtual conferences with panel discussions, to multiple streams in a broadcast quality produced in various rooms at digital events with parallel sessions or break-out rooms.
For all of this we work in full compliance with GDPR and ensure highest safety standards, such as encryption of streams, servers located in Germany, protection against data theft and perfect connectivity ensured by redundant hardware, all of which allows us to also hold demanding events such as annual general meetings virtually.

Katharina Kellner
8. May 2020